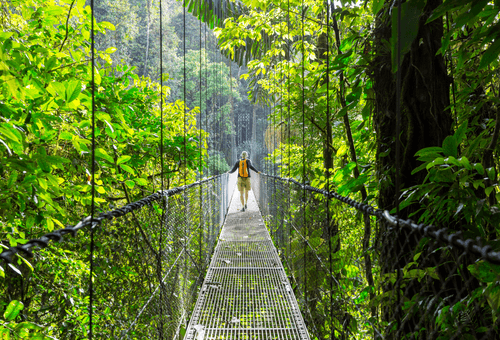 Discover Costa Rica with our Wild Life & Nature experts…
Our Nature packages have carefully been selected by our Nature Experts to guarantee you have the ultimate Costa Rican Nature Vacation.
Every hotel, tour & transportation has been handpicked and vetted in order to make the perfect Nature packages filled with various rainforests which are buzzing with fascinating animals such as toucans, monkeys, active volcano visits, and eye-poppingly electric blue waterfalls.
Our goal is simple: We want to create a unique experience that fits your Nature & wildlife interests which means we will customize any package for free until you are 100% happy.
With our 34 years of combined experience, no other travel agency can rival our passion for 100% guest Satisfaction… With Tulu nothing is impossible
Experience the nature of Costa Rica
Costa Rica is a nature lover's paradise, with its rich biodiversity and stunning landscapes. From lush rainforests to pristine beaches, this country offers a wide range of natural wonders for visitors to explore. Now let's dive right into a few of the best places to explore in this lush haven known as Costa Rica!
One of the highlights of experiencing nature in Costa Rica is its national parks. With over 25% of its land protected as national parks or reserves, there are plenty of opportunities to witness the incredible wildlife that calls this place home.
Take a hike through Manuel Antonio National Park, where vibrant wildlife, including monkeys and sloths, thrive amidst the dense vegetation.
If you're looking for some adventure, embark on a journey to the majestic Arenal Volcano, where you can witness its impressive eruptions or relax in the nearby hot springs.
For those who prefer water activities, don't miss the chance to visit the Tortuguero National Park, a nesting ground for sea turtles, where you can witness these majestic creatures in their natural habitat. This park is also known for its vast network of canals and lagoons, which are teeming with turtles, manatees, and crocodiles.
For beach lovers, the pristine shores of Tamarindo and Manuel Antonio offer sun-drenched relaxation and thrilling water activities. If you're more interested in marine life, make sure to visit Isla del Coco National Park. Located off the Pacific coast, this remote island is a haven for divers and snorkelers who can encounter hammerhead sharks, manta rays, and vibrant coral reefs.
In addition to its national parks, Costa Rica boasts an impressive array of ecological reserves that offer unique experiences for nature enthusiasts. Monteverde Cloud Forest Reserve is famous for its misty forests filled with hummingbirds and orchids while Corcovado National Park showcases untouched wilderness where jaguars roam freely.
Effortless Planning From the moment you land, Tulu takes over the reins, orchestrating a vacation that transcends perfection, ensuring every detail is meticulously crafted to offer you a lavish and seamless experience.
Budget-Friendly Excellence Tulu promises affordable rates without compromising on the quality of your vacation, delivering exceptional value for every dollar spent.
Tailored Adventures Catering to your unique preferences, Tulu offers adaptable travel solutions, crafting a journey that resonates with your individual style and desires.
Eco-Conscious Travel With Tulu, embark on a journey that respects the Earth. Your trip is not only carbon offset but also contributes positively to the local community, fostering a harmonious relationship with nature and society.
24/7 Personalized Assistance Enjoy the peace of mind that comes with Tulu's round-the-clock concierge service, offering professional and personalized assistance at any hour, ensuring a worry-free and delightful vacation.