Top #1 Costa Rica Travel Guide
All the things you need to know
Welcome to the ultimate Costa Rica Travel Guide, where we dive into the enchanting world of this tropical paradise. From lush rainforests to jaw-dropping beaches, Costa Rica is a dream destination for nature lovers and adventure seekers alike. Whether you're craving adrenaline-pumping activities or seeking solace in serene landscapes, this Central American gem has it all.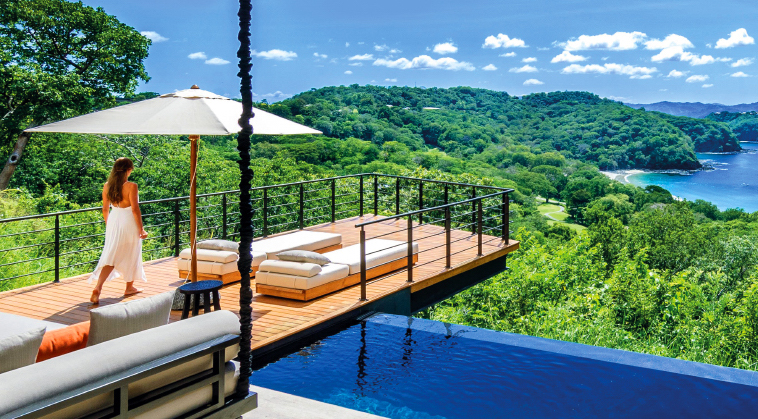 Plan you vacation with Tulu Travel
From first-time visitors to experienced adventurers, this Costa Rica travel guide promises to provide all the information you need to make the most of your Costa Rica trip. Here, we cover everything from must-see attractions and tours to helpful tips for navigating the country like a local. With this guide, you'll be able to discover the hidden gems that make Costa Rica so special and create lasting memories in paradise! So grab your sunscreen and get ready for an unforgettable journey through the best that Costa Rica has to offer!
Costa Rica Vacation Travel Guide
Planning a vacation to Costa Rica? Get ready for an incredible adventure filled with stunning landscapes, vibrant culture, and thrilling experiences. This Costa Rica Travel Guide is here to help you make the most of your trip.
Costa Rica is renowned for its breathtaking natural beauty. From towering volcanoes to cascading waterfalls, this country boasts some of the most diverse ecosystems in the world. Explore lush rainforests teeming with exotic wildlife or bask in the sun on pristine white-sand beaches.
Whether you're looking to soak up the sun at the beach, explore off-the-beaten-path destinations, or take part in some thrilling outdoor activities, Costa Rica has something for everyone. Whether you're an adventure seeker or a nature lover, Costa Rica has some of the best places to explore and create lasting memories.
For those craving adventure, Costa Rica offers an array of thrilling activities. Zip line through the forest canopy, go whitewater rafting down raging rivers, or hike up a volcano for panoramic views that will leave you breathless. The opportunities for adrenaline-fueled fun are limitless.
When planning your trip, it's important to consider what type of experience you want to have. Do you want to stay in a beachfront resort or explore the rainforest? Are you looking for thrilling outdoor activities or tranquil relaxation? Once you decide what type of experience you'd like to have, it will be easier to plan your itinerary and budget accordingly. However, don't overstress because the purpose of this Costa Rica travel guide is to help you plan your flawless trip. So let us take that stress off your shoulder and take you to the best places in this tropical paradise called Costa Rica!
Immerse yourself in the rich culture of Costa Rica by visiting charming towns and villages nestled amidst picturesque landscapes. Sample traditional cuisine like gallo pinto or indulge in fresh seafood delicacies while sipping on a refreshing guaro cocktail.
When it comes to accommodations, Costa Rica has something for everyone. Whether you prefer luxury resorts overlooking the ocean or eco-friendly lodges tucked away in nature reserves, there are plenty of options to suit every budget and preference. So pack your bags and get ready to embark on an unforgettable journey through this tropical paradise known as Costa Rica! With so much natural beauty and exhilarating adventures waiting at every turn, there's no doubt that this vacation will be one for the books!
Experience the Nature of Costa Rica
Experience the awe-inspiring nature of Costa Rica by immersing yourself in its best places, guided by this detailed Costa Rica travel guide. Costa Rica is a nature lover's paradise, with its rich biodiversity and stunning landscapes. From lush rainforests to pristine beaches, this country offers a wide range of natural wonders for visitors to explore.
Now let's dive right into a few of the best places to explore in this lush haven known as Costa Rica!
One of the highlights of experiencing nature in Costa Rica is its national parks. With over 25% of its land protected as national parks or reserves, there are plenty of opportunities to witness the incredible wildlife that calls this place home.
Take a hike through Manuel Antonio National Park, where vibrant wildlife, including monkeys and sloths, thrive amidst the dense vegetation.
If you're looking for some adventure, embark on a journey to the majestic Arenal Volcano, where you can witness its impressive eruptions or relax in the nearby hot springs.
For those who prefer water activities, don't miss the chance to visit the Tortuguero National Park, a nesting ground for sea turtles, where you can witness these majestic creatures in their natural habitat. This park is also known for its vast network of canals and lagoons, which are teeming with turtles, manatees, and crocodiles.
For beach lovers, the pristine shores of Tamarindo and Manuel Antonio offer sun-drenched relaxation and thrilling water activities. If you're more interested in marine life, make sure to visit Isla del Coco National Park. Located off the Pacific coast, this remote island is a haven for divers and snorkelers who can encounter hammerhead sharks, manta rays, and vibrant coral reefs.
In addition to its national parks, Costa Rica boasts an impressive array of ecological reserves that offer unique experiences for nature enthusiasts. Monteverde Cloud Forest Reserve is famous for its misty forests filled with hummingbirds and orchids while Corcovado National Park showcases untouched wilderness where jaguars roam freely.
As you explore the best places in Costa Rica, be captivated by the country's commitment to conservation and sustainability. Costa Rica's dedication to protecting its natural heritage shines through in its numerous national parks, biological reserves, and eco-friendly initiatives. Experience the wonders of Costa Rica's nature, guided by a comprehensive travel guide, and create memories that will last a lifetime.
No matter where you go in Costa Rica's natural wonderland – be it soaring through zip lines above tropical forests or relaxing on secluded beaches – one thing is certain: You'll be captivated by the beauty and diversity found at every turn!
Best things to do in Costa Rica
Are you wondering what the best things to do in Costa Rica are? Worry not! This Costa Rica travel guide is here to reveal all the best places to visit and the activities to engage in so that you can make unforgettable memories in our tropical haven!
Costa Rica is a paradise for adventure seekers and nature enthusiasts alike. With its diverse landscapes, lush rainforests, stunning beaches, and abundant wildlife, there is no shortage of exciting activities to enjoy during your visit.
One of the top things to do in Costa Rica is exploring its national parks. Manuel Antonio National Park offers beautiful hiking trails, pristine beaches, and the chance to spot monkeys swinging through the trees. Tortuguero National Park on the Caribbean coast is a haven for sea turtles, while Arenal Volcano National Park boasts hot springs and breathtaking views of the volcano.
For adrenaline junkies, whitewater rafting down the Pacuare River or zip-lining through the Monteverde Cloud Forest should be at the top of their list. Surfing enthusiasts can catch some epic waves along Costa Rica's Pacific coastline.
Nature lovers will also appreciate visiting Monteverde's cloud forest reserve or taking a boat tour through Tortuguero's canals to spot exotic birds and reptiles lurking beneath lush green foliage.
Don't miss out on experiencing Costa Rica's unique culture by visiting vibrant local markets like Mercado Central in San Jose or participating in traditional cooking classes where you can learn how to make delicious dishes using fresh local ingredients.
With so many incredible adventures awaiting you in Costa Rica, it's no wonder why it has become one of the best travel destinations for those seeking both relaxation and excitement amidst Mother Nature's finest creations.
The weather in Costa Rica
When planning a trip to Costa Rica, it's important to consider the weather and climate of this beautiful country. Costa Rica is known for its tropical climate, with temperatures that vary based on the region and elevation.

The country experiences two main seasons: the dry season and the rainy season. The dry season typically runs from December to April, offering sunny days and warm temperatures perfect for exploring beaches and outdoor activities. During this time, you can expect little rainfall and clear skies.
The rainy season in Costa Rica runs from May to November and the weather can be unpredictable. While rainfall is common during this time, showers typically don't last long and are interspersed with sunny days. The rain is often a welcome relief from the heat and helps create lush green landscapes that make Costa Rica so beautiful.
Many travelers may think that the rainy reason might not be the best time to visit, but this Costa Rica travel guide has a secret to share!
Costa Rica during the rainy season is a truly enchanting experience. As the skies open up and the rain begins to fall, the vibrant landscapes come alive with a renewed sense of beauty and tranquility. The lush rainforests and dense jungles become even more vibrant, teeming with life and an array of vibrant hues.
The rain brings a refreshing coolness to the air, providing relief from the tropical heat. It also offers a chance to witness the captivating spectacle of nature at its finest, with frequent rainbows arcing across the sky. The rainy season in Costa Rica also brings a sense of solitude and peacefulness, as the tourist crowds tend to thin out, allowing for a more intimate connection with the stunning natural wonders that abound.
No matter which season you visit, you should pack appropriately for the climate by wearing light layers and bringing sunscreen and insect repellent. These items will come in handy no matter what kind of adventure you choose to embark on!
It's worth noting that even during the rainy season, you can still enjoy plenty of outdoor adventures such as hiking through national parks or experiencing thrilling water sports like whitewater rafting.

Costa Rica's weather offers something for everyone throughout the year – whether you prefer basking in sunshine or immersing yourself in a tropical downpour. So make sure to check out the forecast before packing your bags!
Best time to visit Costa Rica
When it comes to planning your trip to Costa Rica, one of the most important factors to consider is the best time to visit. It is also essential to find a reliable Costa Rica travel guide much like this one to make the most informed choice.
 Costa Rica is known for its incredible biodiversity and stunning natural landscapes, but different seasons offer different experiences.
Costa Rica is a year-round destination with diverse landscapes and microclimates, offering something for every traveler. However, the dry season, which typically runs from December to April, is widely regarded as the best time to visit. During this period, the weather is generally sunny, with lower chances of rain and optimal conditions for outdoor activities. This is especially ideal for exploring the best places in Costa Rica, such as the stunning Pacific beaches, the lush rainforests of Monteverde, and the breathtaking Arenal Volcano. The dry season also coincides with the peak tourist season, ensuring vibrant nightlife, bustling markets, and a lively atmosphere.
However, it's worth noting that the wet or "green" season, from May to November, offers its own unique charms. The rain brings the landscapes to life, making it a great time to visit the lush rainforests and witness vibrant wildlife. Additionally, this period sees fewer crowds and lower prices, allowing for a more intimate experience with the country's natural wonders.


Ultimately, the best time to visit Costa Rica depends on personal preferences and the specific experiences one seeks, so use this reliable Costa Rica travel guide to tailor your visit to the best places based on your desired activities and climate preferences.

The best time to visit Costa Rica depends on your personal preferences and what you want out of your trip. Whether you choose to embrace the sun-drenched dry season or immerse yourself in nature during the rainy months, Costa Rica promises an unforgettable experience at any time of year!
Juan Santamaría International Airport serves as the primary gateway for travelers, conveniently located near the capital city of San José. It offers a wide range of international flights and is a convenient starting point for exploring the central region and popular destinations like Arenal Volcano and Monteverde Cloud Forest.
On the other hand, Daniel Oduber Quirós International Airport serves the northwestern part of Costa Rica, particularly the Guanacaste region. This airport is a great choice for those seeking to discover beautiful beaches and resorts in places like Tamarindo, Playa Flamingo, and Papagayo.
Both airports offer modern facilities, transportation options, and access to nearby attractions. Whether you choose Juan Santamaría International Airport or Daniel Oduber Quirós International Airport, planning your journey with the help of a Costa Rica travel guide ensures a seamless arrival and sets the stage for an unforgettable adventure in the best places this captivating country has to offer.
No matter which airport you choose, keep in mind that customs and immigration procedures are usually straightforward and efficient. Just make sure you have all your necessary travel documents ready upon arrival.

Costa Rica's well-connected network of airports makes it easy for travelers to explore different regions of this beautiful country with ease. So start planning your trip today and get ready for an incredible adventure!
Costa Rica travel requirements
Costa Rica is a captivating destination that offers something for every type of traveler. Before you embark on your Costa Rican adventure, it's important to be aware of the travel requirements for entering this tropical paradise.

First and foremost, make sure your passport is valid for at least six months from the date of entry into Costa Rica. This is a crucial requirement that cannot be overlooked. Additionally, visitors must have a return ticket or proof of onward travel to enter the country.

Visitors from many countries do not need a visa to enter Costa Rica; however, they are required to fill out an Immigration Form upon arrival. This form will ask for basic information about yourself and your stay in the country.
It's also essential to have proof of sufficient funds during your stay in Costa Rica. While there is no specific amount mentioned, having a reasonable sum available will ensure smooth entry.

Furthermore, travelers should check if any vaccinations are recommended before visiting Costa Rica. Although no mandatory vaccines are required, it's always wise to consult with your healthcare provider regarding any necessary precautions.

It's highly advisable to purchase travel insurance before heading off on your trip. Travel insurance provides peace of mind in case of unexpected situations such as medical emergencies or lost luggage.

Remembering these travel requirements will help ensure a hassle-free journey into beautiful Costa Rica! It's time to start planning and get ready for an unforgettable adventure amidst lush rainforests and stunning beaches!
Costa Rica is not only known for its beautiful landscapes and diverse wildlife but also for being one of the safest countries to visit in Central America. Traveling to Costa Rica provides a sense of security that allows visitors to fully immerse themselves in the country's natural wonders without worrying about their safety.

One of the reasons why Costa Rica is considered safe for travelers is its stable political environment. The country has been a democracy since 1949, which has contributed to a peaceful and secure atmosphere. Additionally, Costa Rica abolished its army back in 1948, further emphasizing its commitment to peace and stability.

In terms of crime rates, Costa Rica fares relatively well compared to other countries in the region. While petty theft can occur in tourist areas or crowded places like markets or bus stations, violent crimes are generally rare. However, it's always important to take common-sense precautions such as keeping an eye on your belongings and avoiding displaying expensive items openly.

The local authorities also prioritize tourist safety by maintaining a strong presence throughout popular destinations. Tourist police officers are readily available to assist visitors with any concerns or emergencies they might have during their stay.
When it comes to transportation safety, it's recommended that travelers use licensed taxis or reputable transportation services rather than hitchhiking or accepting rides from strangers. It's also advisable not to leave valuables unattended inside vehicles.

While exploring nature reserves and national parks in Costa Rica, tourists should be aware of their surroundings and follow instructions provided by park rangers regarding hiking trails and wildlife encounters. Respecting nature will not only keep you safe but will help preserve these incredible ecosystems for future generations.

While no destination can guarantee absolute safety at all times, traveling through Costa Rica is generally considered low risk compared to many other countries around the world. By exercising caution and being aware of your surroundings, you can confidently enjoy everything this amazing country has to offer without compromising your personal safety.
When preparing for a trip to Costa Rica, packing well is key to ensuring a comfortable and enjoyable adventure. This reliable Costa Rica travel guide will help you to gather insights on the best places to visit and activities to indulge in. Start by considering the diverse climates and landscapes found in Costa Rica, from lush rainforests to stunning beaches.
Pack lightweight, breathable clothing suitable for warm weather, including shorts, t-shirts, and swimwear. Don't forget to bring a good pair of walking shoes or hiking boots for exploring the country's scenic trails. Since Costa Rica is known for its tropical climate, remember essentials like sunscreen, a hat, and insect repellent. For visits to the beach or coastal areas, pack a beach towel, sunglasses, and a reusable water bottle.
If you plan to explore the rainforests, consider bringing a rain jacket, waterproof bag, and sturdy backpack. Additionally, include a camera or smartphone to capture the breathtaking landscapes and wildlife encounters. By packing wisely, you can fully enjoy the wonders of Costa Rica and make the most of your journey to the best places this remarkable country has to offer.


Below is a bullet point list of must-bring items to ensure that you have the best time of your life in this tropical paradise!
Lightweight clothing

: Pack breathable and comfortable clothes suitable for the tropical climate. Don't forget to include swimsuits, shorts, t-shirts, and sundresses.



Rain gear

: As mentioned earlier, Costa Rica experiences occasional rainfall even during dry seasons. Be prepared with a lightweight rain jacket or poncho.

Hiking shoes

: With so many opportunities for outdoor adventures in Costa Rica, sturdy hiking shoes are essential.

Insect repellent

: Protect yourself from pesky mosquitoes and other insects by packing insect repellent with DEET.

Sunscreen

: The sun can be intense in Costa Rica; make sure to bring high SPF sunscreen to protect your skin from harmful UV rays.

Hat and sunglasses

: Shield yourself from the sun's rays with a wide-brimmed hat and polarized sunglasses.

Medications: If you take any prescription medications or require specific over-the-counter remedies, don't forget to pack them along with a small first aid kit.
Travel adapter

: Remember to bring a universal travel adapter since electrical outlets may differ from what you're used to.

Camera equipment

: Capture all the breathtaking landscapes of Costa Rica by bringing your camera or smartphone along with extra memory cards and batteries.

Spanish phrasebook/Guidebook/Maps/Apps

: While many locals speak English in popular tourist areas, having some basic knowledge of Spanish can be beneficial during your travels around the country.




Additionally, consider carrying guidebooks or using maps/apps that provide useful information on local attractions and activities
Where is Costa Rica located?
Costa Rica is located in Central America, bordered by Nicaragua to the north and Panama to the southeast. It is situated between the Pacific Ocean to the west and the Caribbean Sea to the east.
What is the official language of Costa Rica?
The official language of Costa Rica is Spanish. However, English is widely spoken in tourist areas and by many locals involved in the tourism industry.
What is the best time to visit Costa Rica?
Costa Rica has a tropical climate, and the best time to visit depends on your preferences. The dry season, from December to April, is popular among tourists due to lower rainfall and sunny weather. The wet season, from May to November, offers lush green landscapes and fewer crowds.
Are there any health precautions I should take before traveling to Costa Rica?
It is recommended to be up to date on routine vaccinations before traveling to Costa Rica. Depending on the areas you plan to visit, additional vaccinations such as Hepatitis A and Typhoid may be advisable. It's best to consult with a healthcare professional or travel clinic for personalized advice.
Can I drink tap water in Costa Rica?
It is generally safe to drink tap water in most parts of Costa Rica. However, to be on the safe side, many tourists prefer to drink bottled or filtered water, especially in more rural areas.
Is it easy to get around in Costa Rica?
Getting around Costa Rica is relatively easy. The country has a well-developed transportation system with buses, taxis, and rental cars. Domestic flights are also available for longer distances. However, traffic in major cities can be congested, so it's advisable to plan accordingly.
What currency is used in Costa Rica?
The official currency of Costa Rica is the Costa Rican colón (CRC). U.S. dollars are widely accepted in many tourist areas, but it's a good idea to have some local currency for smaller establishments and in more remote regions.
Does Costa Rica have a rainy season, and when is it?
Yes, the rainy season lasts from May to November, with peak rainfall in September and October. 
Are hurricanes common in Costa Rica?
While rare, hurricanes can occur during the Atlantic hurricane season (June to November). 
Is Costa Rica a safe country for tourists?
Generally, Costa Rica is safe for tourists. However, exercise caution in crowded areas and avoid leaving belongings unattended. 
Are there any specific health concerns in Costa Rica?
It's advisable to check the CDC website for any necessary vaccinations or health precautions before traveling. 
How are the road conditions in Costa Rica?
Road conditions can vary, but major routes are generally well-maintained. 4x4 vehicles are recommended for remote areas. 
Do I need a visa to visit Costa Rica?
It depends on your nationality. Many countries, including the US and EU countries, don't require a visa for short visits. 
Can I use US dollars in Costa Rica?
While the official currency is the Costa Rican colón, US dollars are widely accepted in tourist areas. 
Is travel insurance necessary for visiting Costa Rica?
While not mandatory, travel insurance is strongly recommended to protect against unexpected events. 
Do I need to show a negative COVID-19 test to enter Costa Rica?
It's essential to check the latest COVID-19 travel requirements as they may change over time. 
Yes, you might need to complete an online health form and show proof of vaccination or a negative COVID-19 test.
Want to Customise Your Vacation?

Get a free Quote
& expert advice