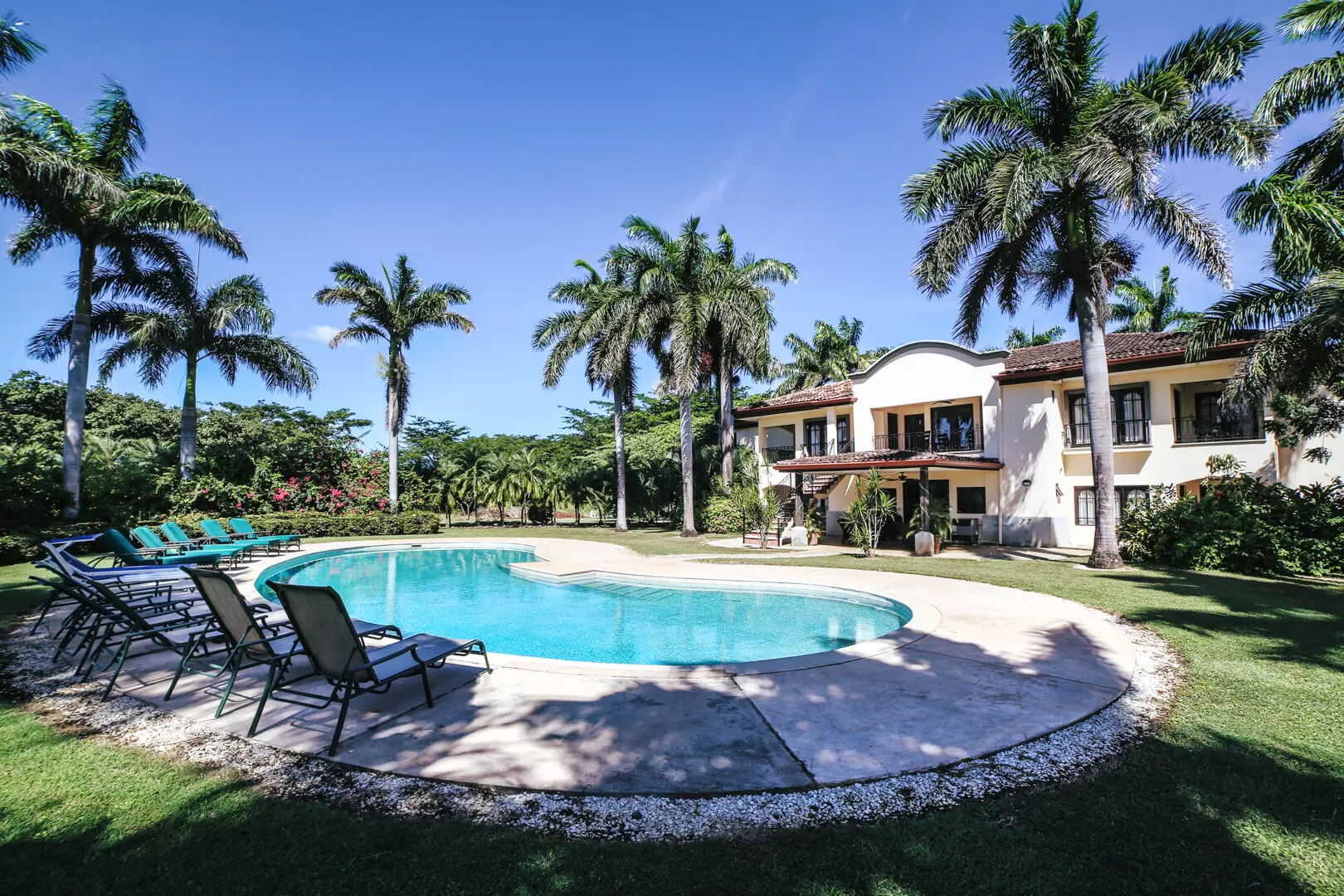 Overview
A vacation home like no other, this stunning property makes a great place to enjoy a holiday with family and friends, and outdoor wedding or special event. Surrounded by lush tropical gardens immerse yourself in the trance-like peace that this private location creates.
A luxurious mansion with 8 suites, experienced culinary staff with prepare mouth-watering meals for the day while you enjoy your holiday. Take a dip in their gorgeous infinity pool complete with a relaxing jacuzzi.
Staying at the property comes with an executive pass to the Hacienda Beach Club, which has a fully equipped fitness centre, an international ocean-view restaurant, and an infinity pool.
Located in Hacienda Pinilla, Costa Rica's premier gated community, you get access to a world-class 18-hole golf course. Hacienda Pinilla also offers on-site tennis courts, an equestrian centre, miles of hiking and biking trails, and countless surf breaks along the coast.
Chill on the beach until the sunset or explore the trails around the golf course which will give so some beautiful and secluded spots to relax in private.
Take a trip to the volcano and spend the entire day exploring the meandering pathways through the mountain or learn how to surf with the local certified instructors. Water activities including snorkelling, scuba diving and deep-sea fishing. Eco-tourism adventures that take you and mesmerising nature walks, or take a high speed zipline over the tree canopy. Or just sit back and relax on a catamaran sailing into the sunset. The options are virtually endless.
Villa Tranquila is situated close enough to the town to enjoy Tamarindo's wonderful dining options, renowned surf spots, local craft shopping and so much more.
Speak to the concierge and they will be able to arrange tours, transportation, special services like massages and child care or anything else you might require.
Included
Towels, Beach Towels, Robes
DO I NEED TO GET A VACCINATION BEFORE GOING TO COSTA RICA?
No, you don't, but we always recommend you to talk to your local medical provider.
DO I NEED A PASSPORT TO TRAVEL TO COSTA RICA?
DO I NEED A VISA TO GO TO COSTA RICA AS A U.S. OR CANADIAN NATIONAL?
No Visa is required to go to Costa Rica on vacation if you are a U.S. or Canadian national and are planning to stay less than 90 days. You do need a valid passport and a valid return ticket within 90 days of your departure.
Costa Rica is one of the safest countries in Latin America. As always please be aware of your surroundings. If you for any reason feel uncomfortable let us know and we will advise. Our number-one priority is your safety!
WHAT IS THE WEATHER LIKE IN COSTA RICA?
Costa Rica has a tropical climate and two seasons, the dry season and the green season. The dry season is generally between December and April with very low to no rainfall, and the green season is between May and November when rainfall occurs. The temperatures are similar year-round. The temperatures vary between 86-95 degrees Fahrenheit (30-35 Celsius) daytime at sea level and 77-83 degrees Fahrenheit (25-28 Celisus) at night time. The mountain temperatures differ between 68-86 degrees Fahrenheit (20-30 Celsius) daytime and between 57-72 degrees Fahrenheit (14-22 Celsius) at night time depending on where you are in the country.
Get a free Quote & expert advice