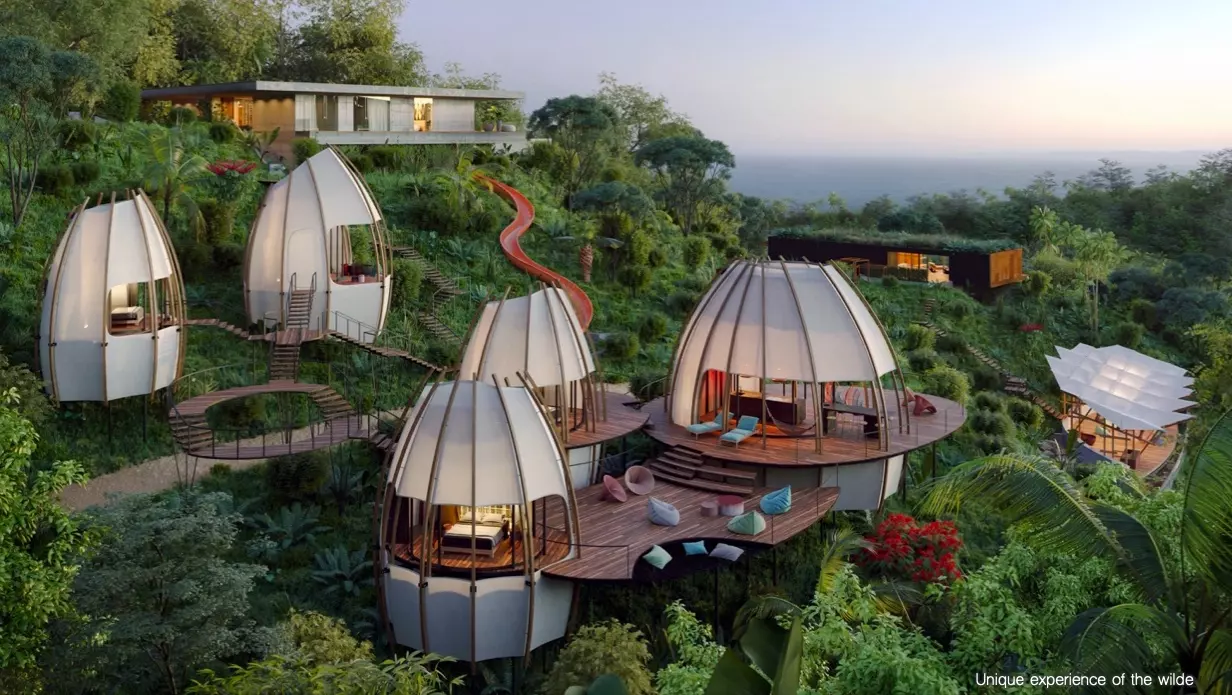 Overview
Striking a balance between nature and style, giving you an absolute luxurious hotel experience. A haven on Earth, this stunning property, has you start-struck as you enter a world out of this world, hidden within the trees. An architectural marvel snug in the dense rainforest, the design portrays a beautiful mix of modern tropical architecture balanced with luxury accommodation.
A space to clear your mind a be one with nature, enjoy a high-life vacation as Art Villas gives you a paradise from the treetops. Inspired by the laws of the jungle, encounter nature with its finest display.
An intricate complex of villas and rooms, located on a cliffside in Playa Hermosa, open spaces and no boundaries allow you to freely integrate with nature and the gentle breath of the jungle embrace your sense. Brilliant views, paired with the open expanses, gives you and uninterrupted sights of the exotic natural wildlife ranging from bright scarlet macaws and curious spider monkeys, filtering about the treetops as the crashing sound of a nearby waterfall whispers through the trees.
For those who need the pumping adrenaline, get your surf board ready to ride some of the best waves in the country. On the other hand, from the comfort of the hotel you can catch a glimpse of the Whale Tail – a stunning sand and rock formation in the shape of a whale tail, where you can also spot two species of whales breaching the waters of the Pacific Ocean.
A state-of-the-art fitness studio will have you pushing your limits with renewed vigour and the forest breaths new energy into you, while the ancient Mayan sauna will rejuvenate and revive your mind, body and spirit.
Day and night blends into one when you retreat into the paradise of Art Villas as beach and forest meet in heavenly harmony in this secluded spot on the shores of Costa Rica.
Included
Towels, Beach Towels, Robes
DO I NEED TO GET A VACCINATION BEFORE GOING TO COSTA RICA?
No, you don't, but we always recommend you to talk to your local medical provider.
DO I NEED A PASSPORT TO TRAVEL TO COSTA RICA?
DO I NEED A VISA TO GO TO COSTA RICA AS A U.S. OR CANADIAN NATIONAL?
No Visa is required to go to Costa Rica on vacation if you are a U.S. or Canadian national and are planning to stay less than 90 days. You do need a valid passport and a valid return ticket within 90 days of your departure.
Costa Rica is one of the safest countries in Latin America. As always please be aware of your surroundings. If you for any reason feel uncomfortable let us know and we will advise. Our number-one priority is your safety!
WHAT IS THE WEATHER LIKE IN COSTA RICA?
Costa Rica has a tropical climate and two seasons, the dry season and the green season. The dry season is generally between December and April with very low to no rainfall, and the green season is between May and November when rainfall occurs. The temperatures are similar year-round. The temperatures vary between 86-95 degrees Fahrenheit (30-35 Celsius) daytime at sea level and 77-83 degrees Fahrenheit (25-28 Celisus) at night time. The mountain temperatures differ between 68-86 degrees Fahrenheit (20-30 Celsius) daytime and between 57-72 degrees Fahrenheit (14-22 Celsius) at night time depending on where you are in the country.
Get a free Quote & expert advice