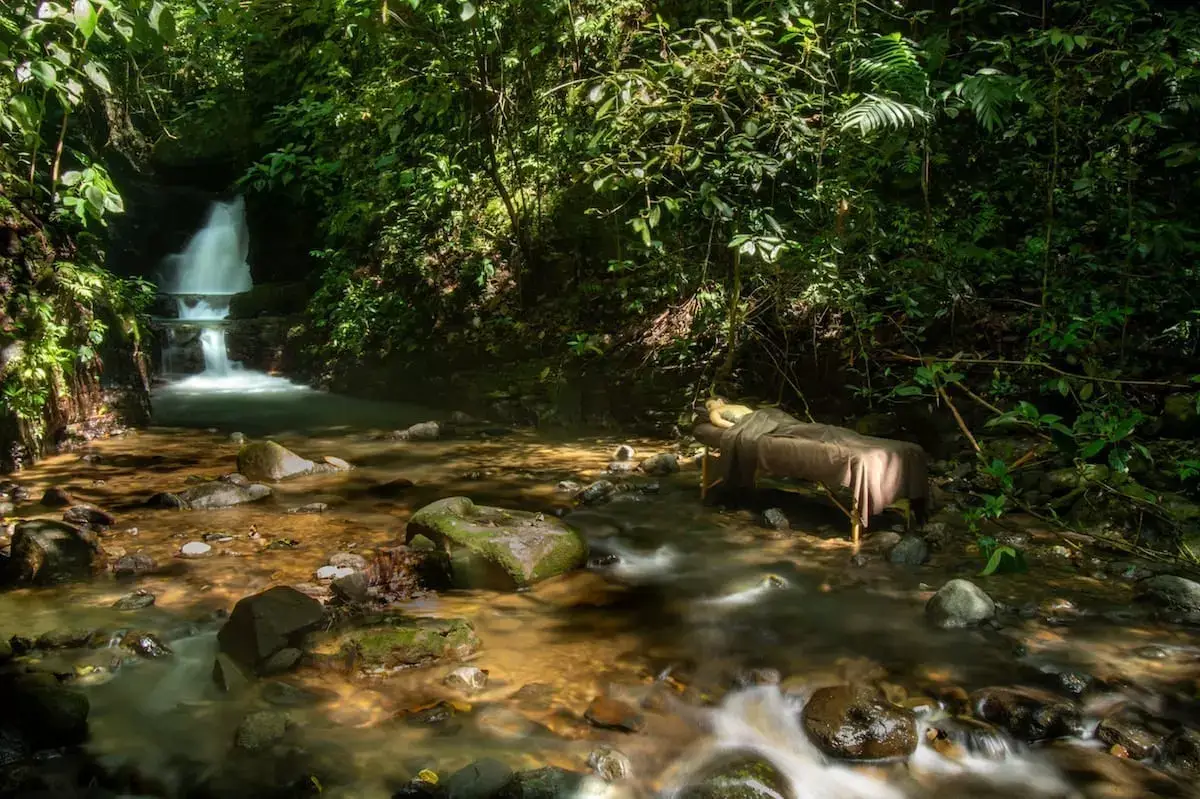 Overview
The only spa of its kind in Costa Rica, the Diⱽ Shum Spa explores the transformational power of nature to rejuvenate mind, body, and soul. Offering the Jungle Spa Day Pass, this treatment allows rejuvenation to the next level by incorporating the healing properties of their private creek with the magical touch of the hotel's professional therapists. Making use of native therapeutic rituals with the purest local products and modern techniques, this combination will elevate your healing experience and have a more long-lasting effect. The treatment beings by sipping on a signature potion that activates your palate and digestive system. The therapist will then lead to deep into the jungle to a private and secluded location where a crystal-clear creek flows through. The sound of the gently flowing water will serve as the backdrop to your massage. As you settle in, aromatherapy will guide you into a deeper state of relaxation and your deep-tissue massage begins. The therapist listens to your body and provides a bespoke treatment according to what your body needs for the healing process to begin. After your massage, you'll receive a body wrap of homemade spiced organic Aloe Vera cream in native Bijagua leaves. Once you are feeling fully restored and relaxed, you get a chance to plunge into your private natural pool and waterfall. Spend as much time as you need basking in the crisp river water and as the water carries your stress. You can then emerge, to continue on your stress-free vacation.
The Jungle Spa Day Pass gives you access to this experience, allowing you to indulge in 60 minutes of wholesome treatments that will heal your mind body and spirit, giving nature the opportunity to rejuvenate your senses and breath new life. If you are looking a treatment that is more than 60 minutes, you can easily upgrade your The Jungle Spa Day to cater to the treatment you desire.
Choose from a variety of treatments ranging from deep tissue, couples' sessions, refreshing facial, revitalizing facial, head to toe massage, bamboo therapy, foot reflexology or a class therapeutic soft tissue massage. The signature Lymphatic Effleurage is a specially designed treatment to improve lymphatic and digestion systems and activate the principal lymph nodes by a slow soft pressure.
Included
Light lunch of chopped salad, soup, or quesadilla (upgrade available)
Freshly-made green smoothie
60-minute relaxation massage (upgrade available)
Access to our jungle river, swimming holes, and waterfall (either 9-noon or 1-4pm)
Get a free Quote & expert advice