Jungle Vista Boutique Hotel
Jungle Vista Boutique Hotel
Overview
Located in close proximity to the beach, Jungle Vista Boutique Hotel features a restaurant, an outdoor pool, and a bar lounge, while offering guests free full breakfast, free WiFi, and free self-parking. Situated in one of the world's greatest eco-destinations, Jungle Vista Boutique Hotel inspires guests to be one with nature mind and body. Portraying the natural beauty of Costa Rica, this jungle paradise by the sea has one of the best hospitality experiences in the country. Respecting the environment it's surrounded by, Jungle Vista Boutique Hotel boasts of vertical design buildings, a small ecological footprint, along with face-to-face up-close and personal encounter with the amazing local animals who inhabit the jungle tree tops.
The beautifully designed suites and apartments create a space where guests feel the beauty of the natural surroundings, both inside and out. The large windows give panoramic views of the forest and it seamlessly flows with the natural light into the room. The three towers of Jungle Vista Boutique Hotel are built snugly into the sloping hills of the Manuel Antonio rainforest and offer you gracefully decorated studio rooms and small apartments that are luxurious yet affordable.
The pools and patios at Jungle Vista Boutique Hotel provides an ideal space to kick back, relax after a day of adventure hiking in the Manuel Antonio National Park, zip-lining through the canopy, surfing at the Manuel Antonio beach or kayaking through the mangrove forest. Admire the spectacular rainforest that surrounds this jungle hotel as you kick back and unwind. For a rejuvenating wellness experience, visit the Orquidea Spa at their sister hotel Los Altos Resort, just up the hill.
The poolside Sloth Snack Bar is the perfect place to enjoy a few drinks paired with a delicious meal while lounging by the pool or relaxing on the balcony of your suite. Breakfast is served each morning beside the beautiful creek dining area. The menu at Jungle Vista Boutique Hotel consists of a perfect mix of burgers, wraps, salads and ceviches as well as a full bar selection of natural fruit drinks, local beers, delicious wines and cocktails. Enjoy happy hour drinks and dinner at the Sloth Restaurant as a sloth resides on one of the trees nearby.
Quick Facts about the Hotel
Towels, Beach Towels, Robes
Quick Facts about the Hotel
Towels, Beach Towels, Robes
Get a free Quote & expert advice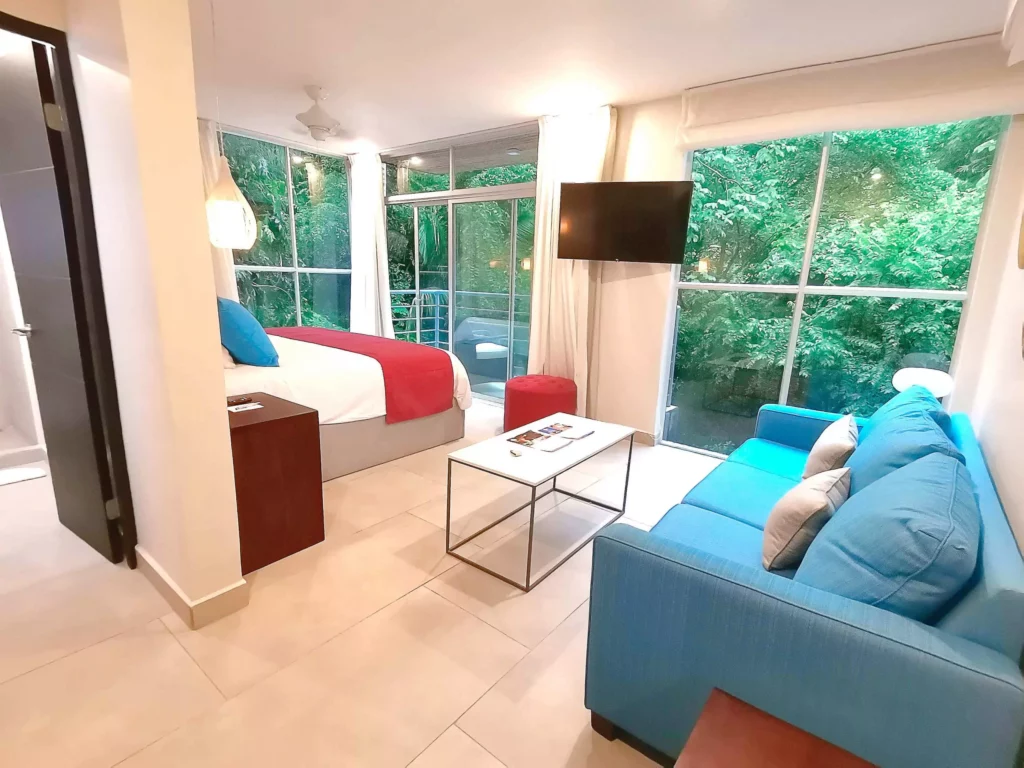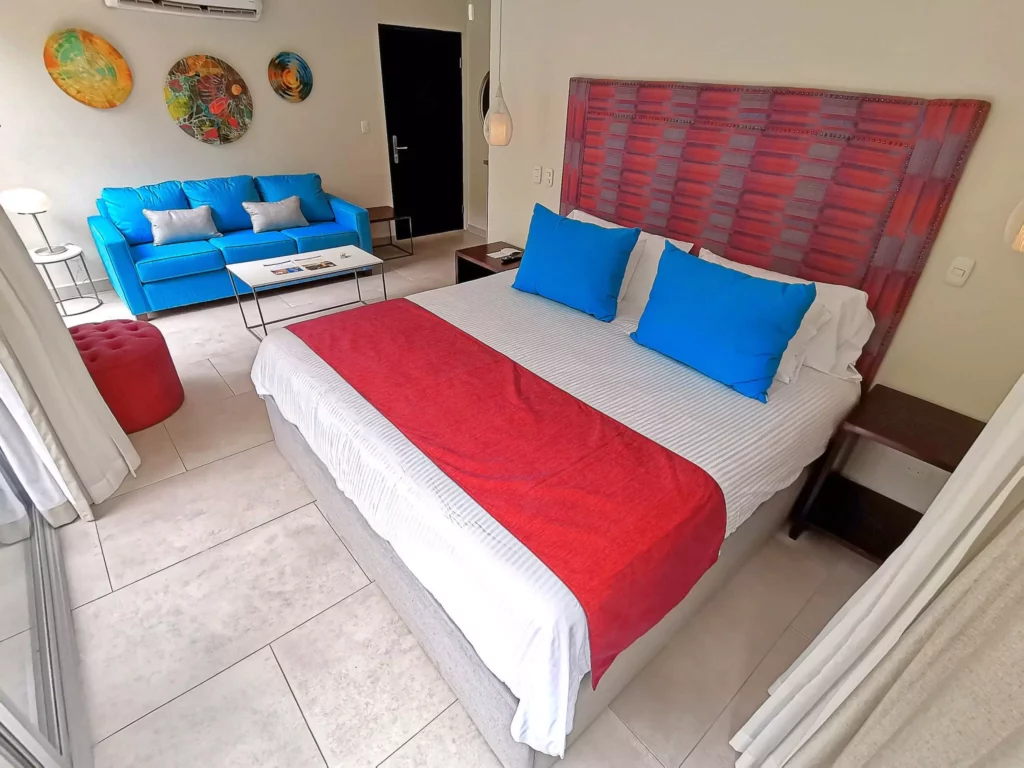 IGUANA SUITES
SLEEPS 1-2 PEOPLE
King-size bed, living area, armchair and full-sized couch (with pull out mattress), perfect couples looking for a comfortable and spacious stay with amazing views of our pools and the jungle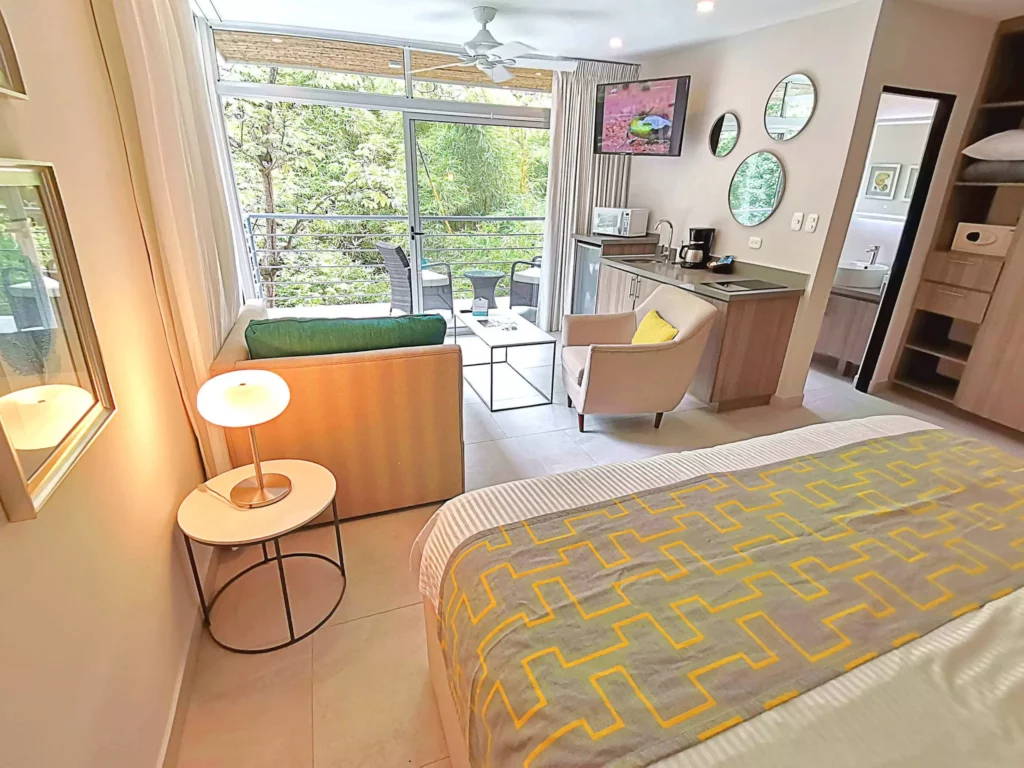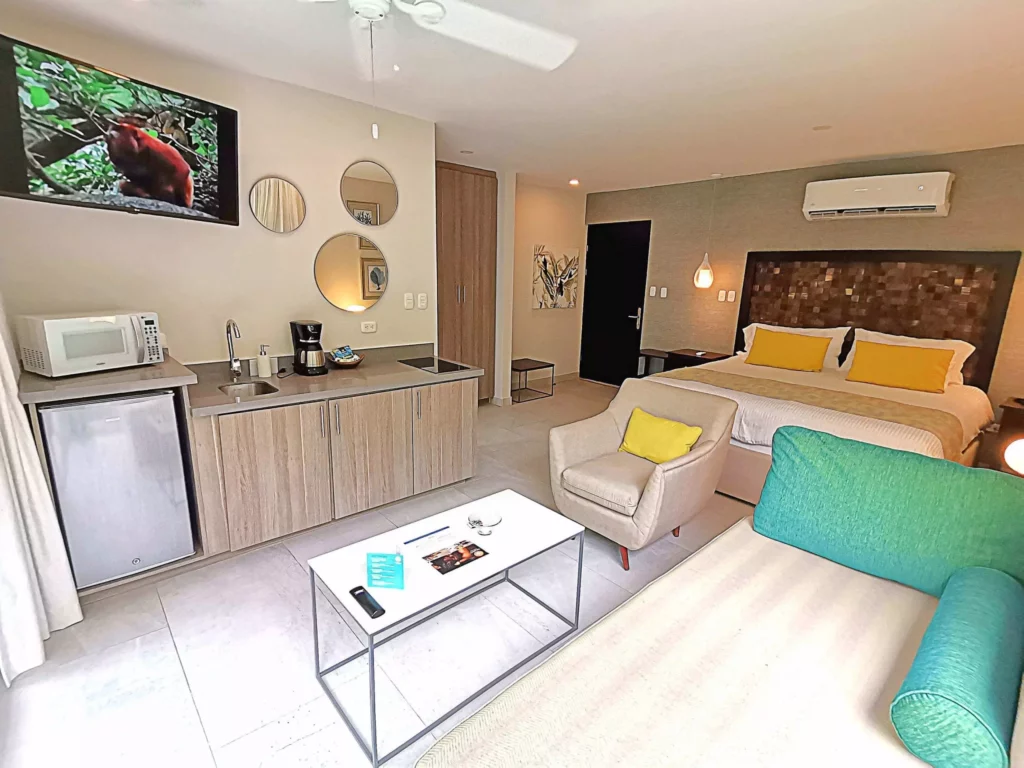 TITI SUITE
SLEEPS 1-4 PEOPLE
Perfect for small families. Full equipped with a king-size bed, living room with armchair and full-sized couch (with pull out mattress) and a full sized balcony for guests to view the treetop wildlife.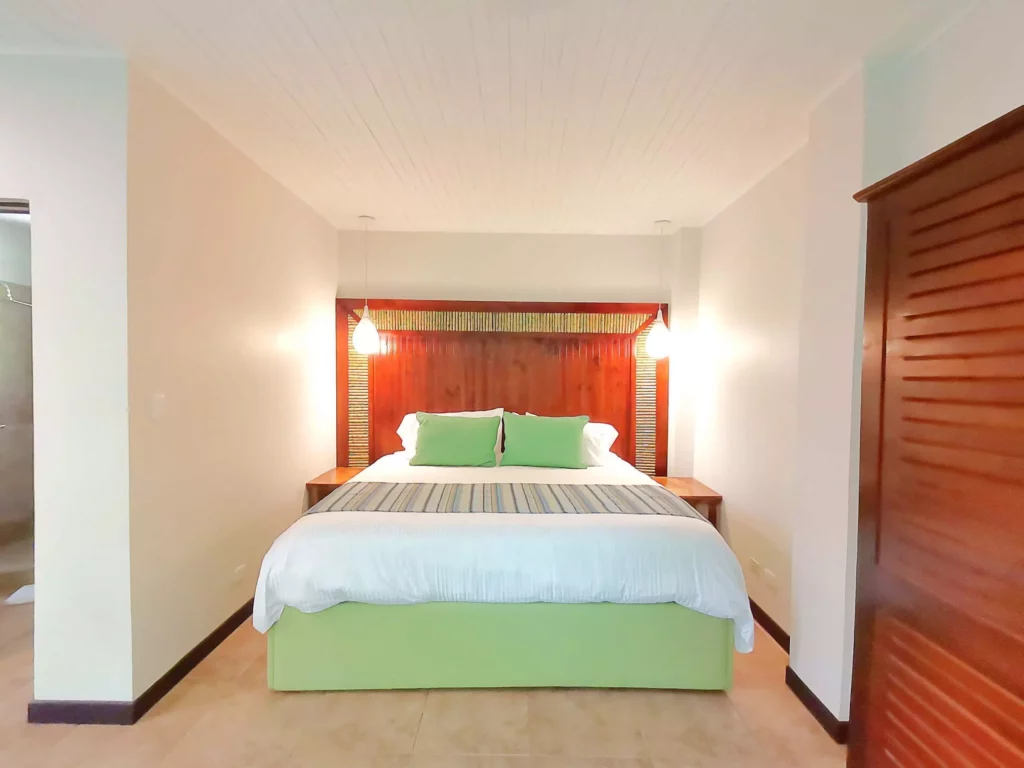 TUCÁN SUITE
SLEEPS 1-4 PEOPLE
Most spacious accommodation. Full equipped with a king-size bed full size living room with a full-sized couch (equipped with a pull out mattress – sleeps 2) and armchair, and a full kitchen. Perfect for larger families or those planning on longer stays