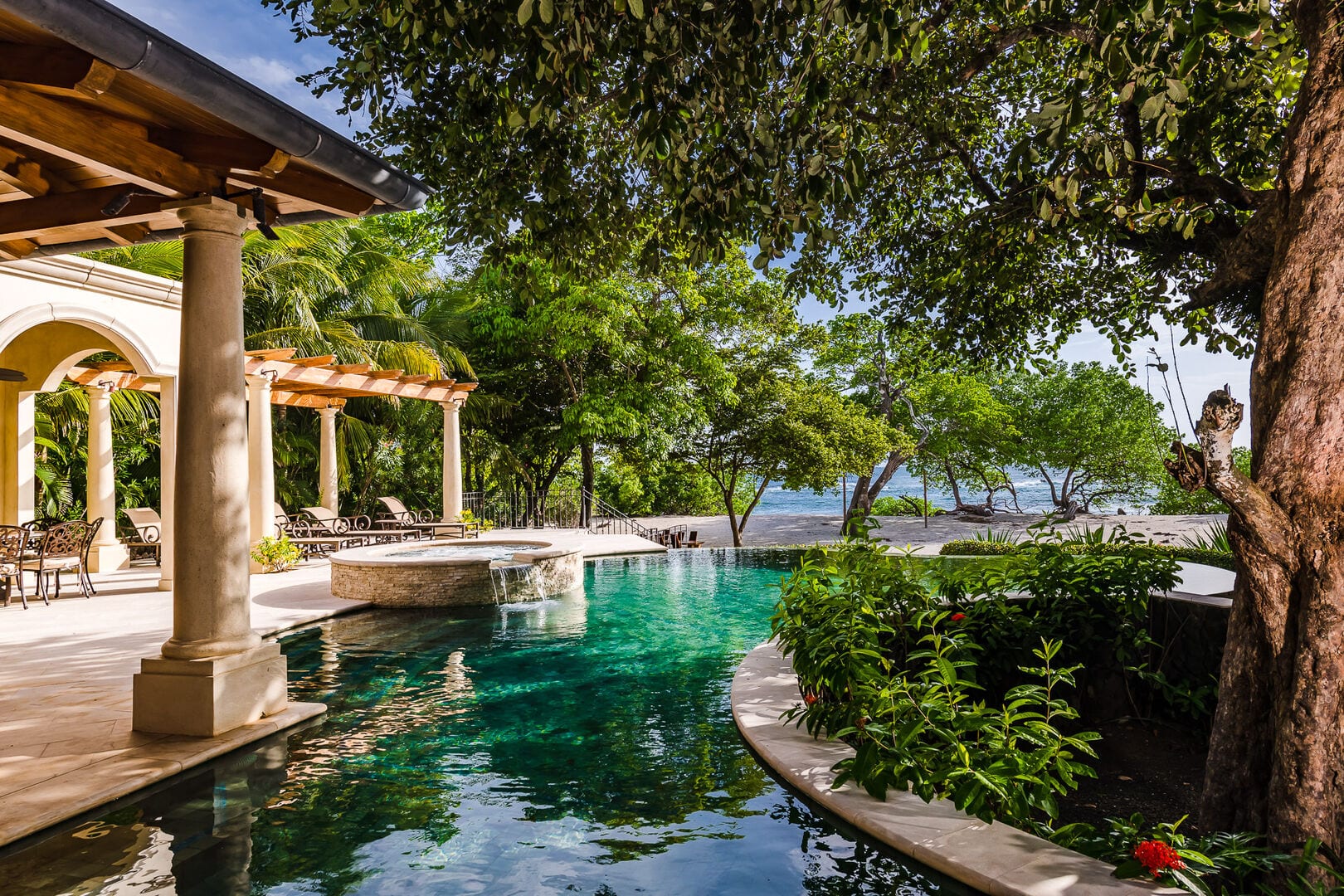 Overview
With a tranquil beach side scenery, this stylish holiday villa gives you breath-taking views of the ocean from the comfort of the property. A dream beach vacation waiting to happen, dive into paradise.
A complex of interconnected interior and exterior living spaces overflow with luxury and comfort. The villa is also equipped with a fully functioning gym and spa room so that your can keep to your health and wellness routine without skipping a beat. Work up a sweat and then slip into a gloriously hot private sauna, or luxuriate with a session in the home's massage room.
The spacious outdoor areas are shady and breezy allowing you to enjoy the refreshing ocean breeze in the coolness of the shade, while the exquisite infinity pool with decorated tiles which has been masterfully built around a tree, also giving you the needed shade while you take a relaxing swim.
Located in the exclusive gated golf community of Hacienda Pinilla, Casa Serna gives you access to 18-hole golf course that stretches from the mountains to the beach. As the day goes by relax at the outdoor terrace sipping a cool beer, as the sounds of the forest and the far away waves lull your mind.
Pack up your holiday with some fun activities like ecotours in the surrounding jungles, scuba diving, snorkelling, surfing, boogie boarding, rafting, mountain biking trails and hiking trails.
While the villa can arrange for a private chef to look after your meals, this gives you more time to explore the beautiful surroundings. Go surfing in front of the beach club or charter a catamaran and watch the sunset from out in the water. Visit the Rincon de la Vieja volcano for a day of horseback riding, hiking, and a natural mineral mud spa. Dinner at Pangas Beach Club in Tamarindo, would be the perfect way to wrap up your perfect holiday.
DO I NEED TO GET A VACCINATION BEFORE GOING TO COSTA RICA?
No, you don't, but we always recommend you to talk to your local medical provider.
DO I NEED A PASSPORT TO TRAVEL TO COSTA RICA?
DO I NEED A VISA TO GO TO COSTA RICA AS A U.S. OR CANADIAN NATIONAL?
No Visa is required to go to Costa Rica on vacation if you are a U.S. or Canadian national and are planning to stay less than 90 days. You do need a valid passport and a valid return ticket within 90 days of your departure.
Costa Rica is one of the safest countries in Latin America. As always please be aware of your surroundings. If you for any reason feel uncomfortable let us know and we will advise. Our number-one priority is your safety!
WHAT IS THE WEATHER LIKE IN COSTA RICA?
Costa Rica has a tropical climate and two seasons, the dry season and the green season. The dry season is generally between December and April with very low to no rainfall, and the green season is between May and November when rainfall occurs. The temperatures are similar year-round. The temperatures vary between 86-95 degrees Fahrenheit (30-35 Celsius) daytime at sea level and 77-83 degrees Fahrenheit (25-28 Celisus) at night time. The mountain temperatures differ between 68-86 degrees Fahrenheit (20-30 Celsius) daytime and between 57-72 degrees Fahrenheit (14-22 Celsius) at night time depending on where you are in the country.
Get a free Quote & expert advice