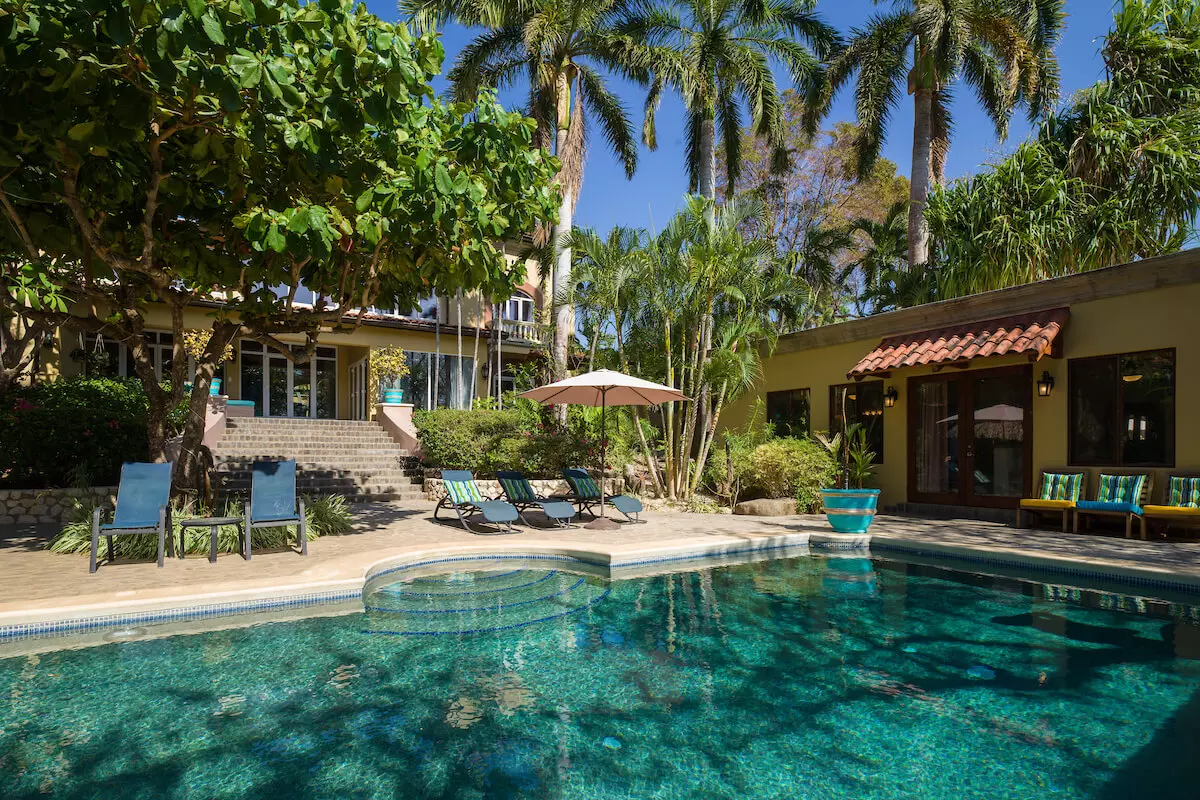 Overview
Visit the 'House of Lights' on the beautiful shores of Playa Tamarindo. With one of the best views of the ocean on town, paired with luxury accommodation and remarkable services, it makes a great destination for an exotic getaway. It is also one of the largest and luxurious beach villas found in the area. It is strategically situated in walking distance to some of the trending hotspots and activities in the region.
This exclusive and secluded gated beach estate, gives direct access to the beautiful Langosta Beach, but its only a few minutes away from the nightlife of Playa Tamarindo and one of the world-famous surf breaks.
For an extended stay or a quick city escape, Casa de Luz makes a perfect location to relax and unwind. Casa de Luz also makes a great place for weddings, group retreats, large family gatherings and special events with its extensive space and entertainment facilities such as the infinity pool, palapa bar, BBQ, outdoor lounging areas and tide pools.
During your stay the hotel can arrange selection of services such as childcare services, private chefs, inhouse spa treatments and much more for your convenience.
Each villa comes fully equipped with a flat-screen TV with satellite channels, DVD player, fully functional kitchen, dishwasher, oven, microwave and coffee machine.
Enjoy beautiful sunsets with a brink in you hand while you lounge the evening away or take a leisurely work down the beach and discover a vivid variety of marine life in the tide pools or take on some of the best surfs in the world. Or head over to the mountains for a full day of adventurous volcano tours and ziplining. So be it a leisurely stay relaxing by the beach and some reviving spa treatments or and adrenaline packed adventure holiday Casa de Luz is the place to be.
Included
Towels, Beach Towels, Robes
DO I NEED TO GET A VACCINATION BEFORE GOING TO COSTA RICA?
No, you don't, but we always recommend you to talk to your local medical provider.
DO I NEED A PASSPORT TO TRAVEL TO COSTA RICA?
DO I NEED A VISA TO GO TO COSTA RICA AS A U.S. OR CANADIAN NATIONAL?
No Visa is required to go to Costa Rica on vacation if you are a U.S. or Canadian national and are planning to stay less than 90 days. You do need a valid passport and a valid return ticket within 90 days of your departure.
Costa Rica is one of the safest countries in Latin America. As always please be aware of your surroundings. If you for any reason feel uncomfortable let us know and we will advise. Our number-one priority is your safety!
WHAT IS THE WEATHER LIKE IN COSTA RICA?
Costa Rica has a tropical climate and two seasons, the dry season and the green season. The dry season is generally between December and April with very low to no rainfall, and the green season is between May and November when rainfall occurs. The temperatures are similar year-round. The temperatures vary between 86-95 degrees Fahrenheit (30-35 Celsius) daytime at sea level and 77-83 degrees Fahrenheit (25-28 Celisus) at night time. The mountain temperatures differ between 68-86 degrees Fahrenheit (20-30 Celsius) daytime and between 57-72 degrees Fahrenheit (14-22 Celsius) at night time depending on where you are in the country.
Get a free Quote & expert advice