Overview
An exclusive hotel by the sea, here is your chance for an epic romantic getaway with your partner with some of the best views of the Pacific Ocean. A perfect private and intimate vacation for honeymooners. Makanda by the Sea specialises in making wedding and honeymoon dreams come true with their elegantly designed villa and studio rentals that blend traditional Costa Rican elements with a touch of contemporary design.
The spacious luxury suites with chic interiors and lavish comforts, these designer rooms are complete with flat-screen TVs, stocked minibars, and ocean-view balconies. As the villas upgrade, kitchenettes, luxurious bathrooms, and private plunge pools are included.
The two infinity pools offer beautiful rainforest and oceanic views along with the addition of built-in hot tubs, will have you reluctant to leave. Here's a chance to soak up the sun while sipping an exotic cocktail and taking in the majestic view.
The Arbol Restaurant has you embarking on a gastronomic journey as it takes you through fresh seasonal products from Central Pacific farmers and fishermen and modern culinary techniques and a world-class selection of wine. Start you day with a cup of fresh Costa Rican coffee and a plate of the seasonal tropical sliced fruits.
The exclusive Shanthi Spa pampers you with relaxing treatments that will wash away the worries of modern life. A special herbs sauna and a special wet room will have you sedated with calmness and bliss.
The hotel also organises private guided tours to the Manuel Antonio Park, where you can explore one of the most diverse habitats in the world. While you are there don't forget to visit some of the best beaches in the world. The secluded and private Makanda Wild Beach, the perfect for a swim Playa Espadilla and the small and calm Biesanz Beach are some of the best beaches to see.
With its culture of inclusive diversity, Makanda by the Sea becomes a paradise where all couples can enjoy their intimate holiday in peace.
Quick Facts about the Hotel
Towels, Beach Towels, Robes
Quick Facts about the Hotel
Towels, Beach Towels, Robes
Get a free Quote & expert advice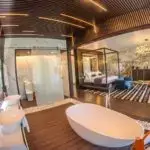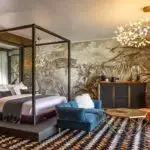 WOW Loft
Sleeps 1-2 people
A spacious and luxury room with artistic design to compliment comfort, it also has a private balcony that opens to spreading ocean and forest views. A king-size bed, marble-floored bathroom with two sinks, a rain shower and bath completes the room.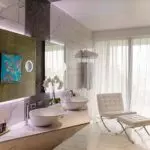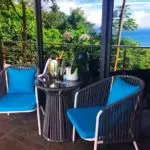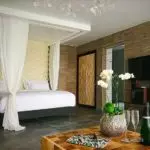 Deluxe Suite Ocean Club
Sleeps 1-2 people
Chic design with tropical ambiance, this room features a large four-poster bed and a comfortable relaxation zone. With a spacious en suite bathroom, the room is also equipped with a full audio system and subwoofer and an large balcony that opens to the sea.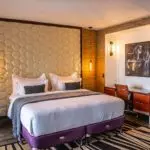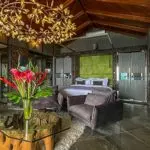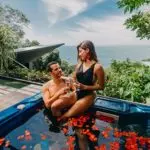 Pacific Jacuzzi Suite
Sleeps 1-2 People
Offering extensive views of the oceanfront and jungle, this room is complete with a luxury studio-type living area, terrace equipped with a jacuzzi and daybed, a walk-in closet and a basic kitchen.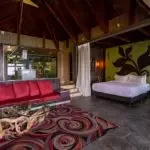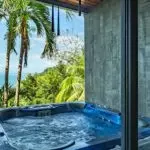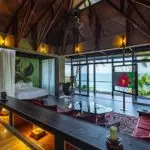 Honeymoon Grand Pool Villa
Sleeps 1-2 people
An ideal romantic accommodation, for honeymoons and special occasions, the extensive room features a spacious balcony, a hot tub, plunge pool, fully equipped kitchen, marble bathroom, king-size bed and sliding glass doors that allow the refreshing sea breeze in.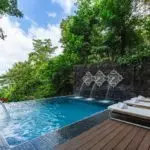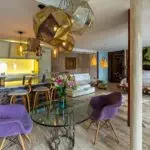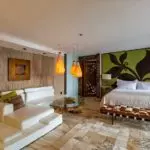 Luxury Villa Private Pool
Sleeps 1-2 people
A lounge complete with a private infinity pool and waterfalls facing the sea, this villa is secluded from the rest of the property. Featuring a large king-size bed, walk-in closets, a smart house system, fully equipped modern kitchen, balcony, terrace, living room, dining room and a lounge area.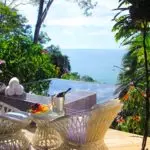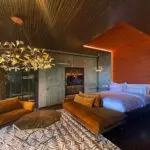 Honeymoon Junior Pool Suite
Sleeps 1-2 people
A special honeymoon suite for a romantic vacation, it features a terrace with an ocean view, private pool-bath, fully equipped kitchenette and a king-size bed,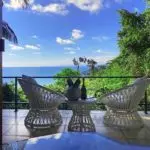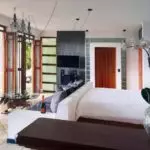 Tropical Suite
Sleeps 1-2 People
A comfortable room complete with a king-size bed, large wrap around sofa, fully equipped kitchen, sound system, dining area and a large terrace with chairs and a hammock.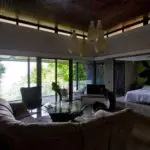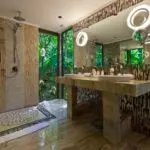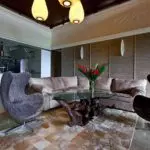 Luxury Villa
Sleeps 1-4 People
A villa that can accommodate four people, with one king-size and queen-size bed. Both located in separate rooms. Luxury interiors give you a terrace with ocean views, walk-in closets, smart house system, fully equipped modern kitchen, living room and a dining room.