Overview
Hotel Costa Verde is a four-star hotel located on a coastal rainforest bluff nestled between the Manuel Antonio National Park and the Pacific Ocean. This unique location offers breathtaking vistas and is just 3 miles from the village of Quepos and 2 hours by car from San Jose's International Airport. The hotel is known for its upscale quality service, extraordinary comfort, and is a perfect destination for adventure travel, ecotourism, sport fishing, surfing, or simply enjoying the peace and tranquility of Manuel Antonio's legendary white sand beaches and national park. Costa Verde features 3 cliffside pools with sundecks and offers a variety of accommodations including spacious rooms, studios, and bungalows. All rooms offer balconies with a bird's-eye view of the park's majestic coastline or rainforest canopy vistas, where you can spot toucans, sloths, coatis, and monkeys. The hotel has been developed over the past 25 years to offer a unique brand of tropical luxury. It is perfect for families, groups, or couples and offers onsite spa services and four unique restaurants to suit all tastes. One of the unique features of the hotel is the 727 Fuselage Home, a fully outfitted, meticulously detailed two-bedroom Boeing 727 fuselage suite that jets out from the jungle canopy, affording you views that will make you feel like you're flying. Hotel Costa Verde also offers professional wedding services, transforming your dreams into a once-in-a-lifetime reality. The hotel captures the essence of 'Pura Vida' living, making it an ideal location for a one-of-a-kind wedding. Come and share this rare corner of the world with us at Hotel Costa Verde, where wild jungle splendor meets the romance of the Pacific beach at sunset.
Quick Facts about the Hotel
Quick Facts about the Hotel
Get a free Quote & expert advice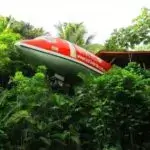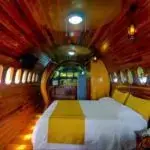 Cockpit Cottage
Sleeps 1-2 people
Built on the jungle hillside, the cockpit section of a McDonnell Douglus, MD-80 fuselage has been transformed into an exquisite bedroom with a king-size bed, sitting areas, bathroom, kitchenette and a wardrobe.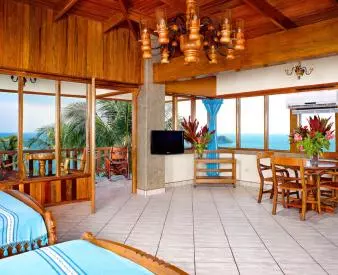 STUDIO PLUS
SLEEPS 1-4 PEOPLE
The room features two queen-size beds, a panoramic ocean view, kitchenette with a breakfast bar and microwave, spacious balcony and living area.