Bosque del Cabo Rainforest Lodge
Bosque del Cabo Rainforest Lodge
Overview
Bosque del Cabo is truly a romantic rainforest vacation, but remains suitable for a solo trip and families as well. Located on a mountain top, surrounded by the jungle, the views of the ocean here are like no other. This lodge sits on 750 acres of forest reserve, dedicated to rainforest preservation, and features private, super spacious bungalows and houses, set high on the ocean side cliffs. Hiking trails, gardens, and beaches dot the property, and the tropical breeze here is out of this world.
Quick Facts about the Hotel
Quick Facts about the Hotel
Get a free Quote & expert advice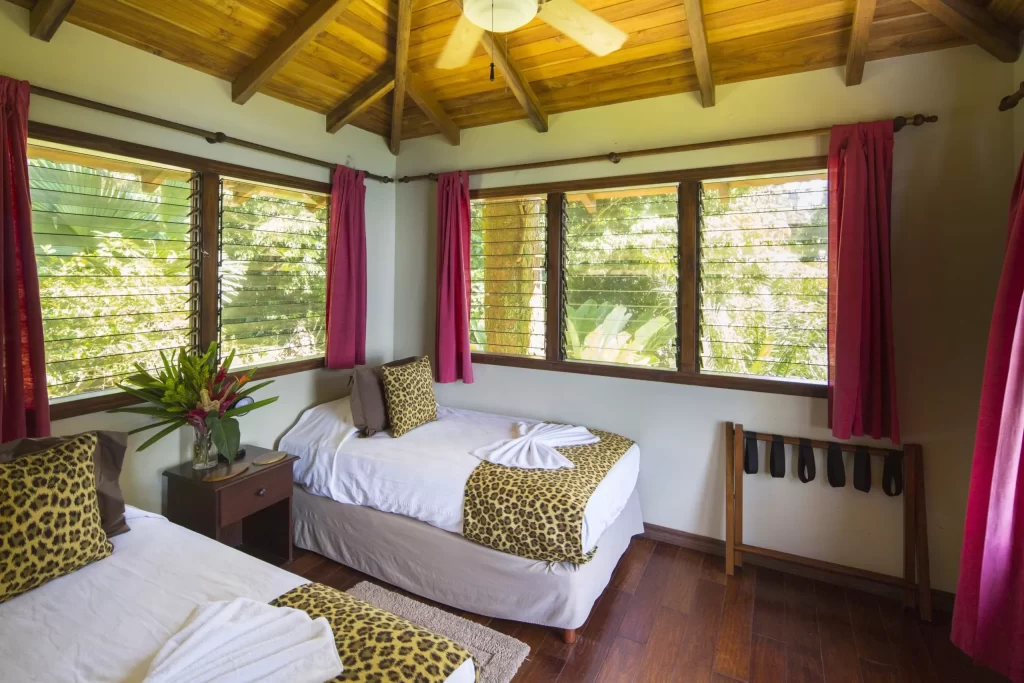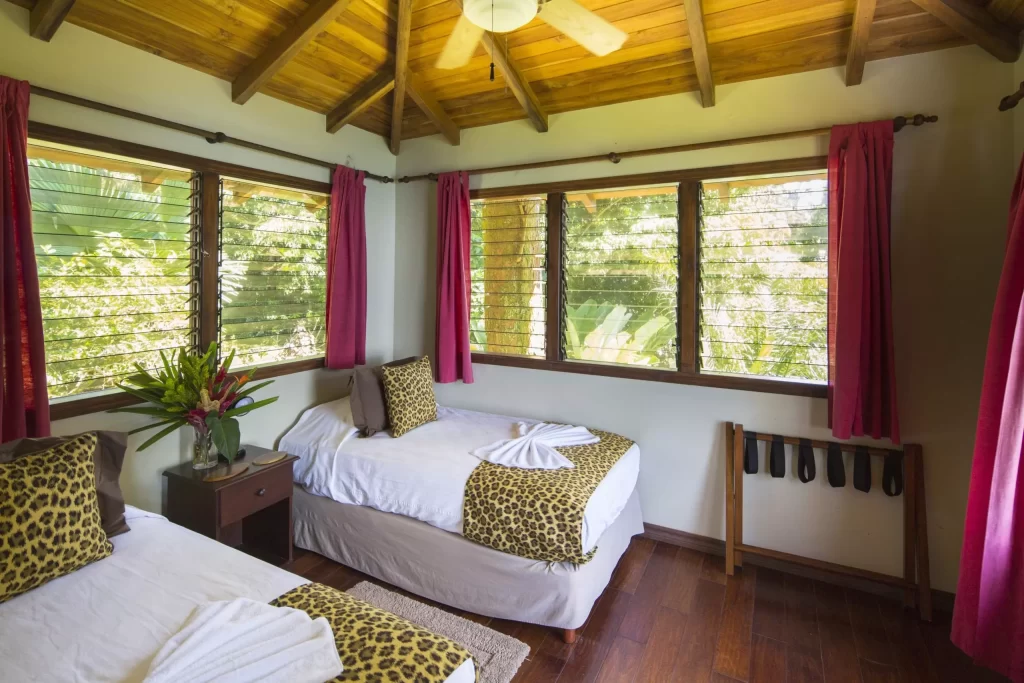 Classic bungalows
Sleeps 1-2 people
Our 2 classic bungalows (Bambu & Sol) are constructed of tropical hardwoods with thatched-roofs. All of the bungalows have private bathrooms, outdoor garden showers, and porches with spectacular views of the Golfo Dulce and Pacific Ocean. We have also included screened windows and small fans for your comfort. These cabinas offer 2 double beds, indoor bathroom, outdoor garden shower, hammock and easy chairs, and double folding doors that open up to amazing views of the stunning blue Pacific.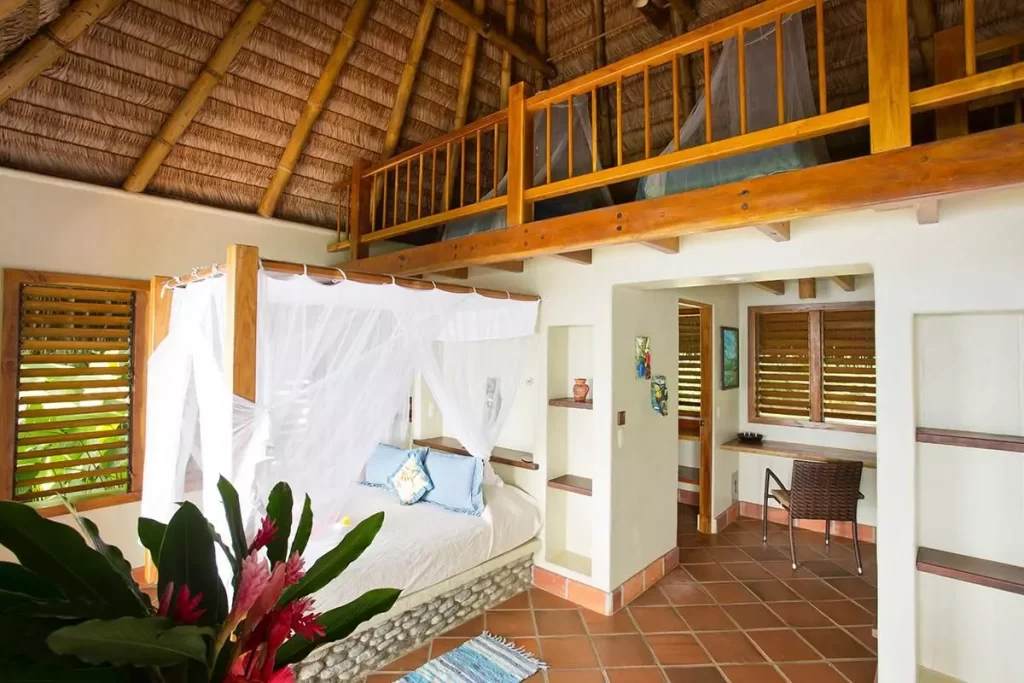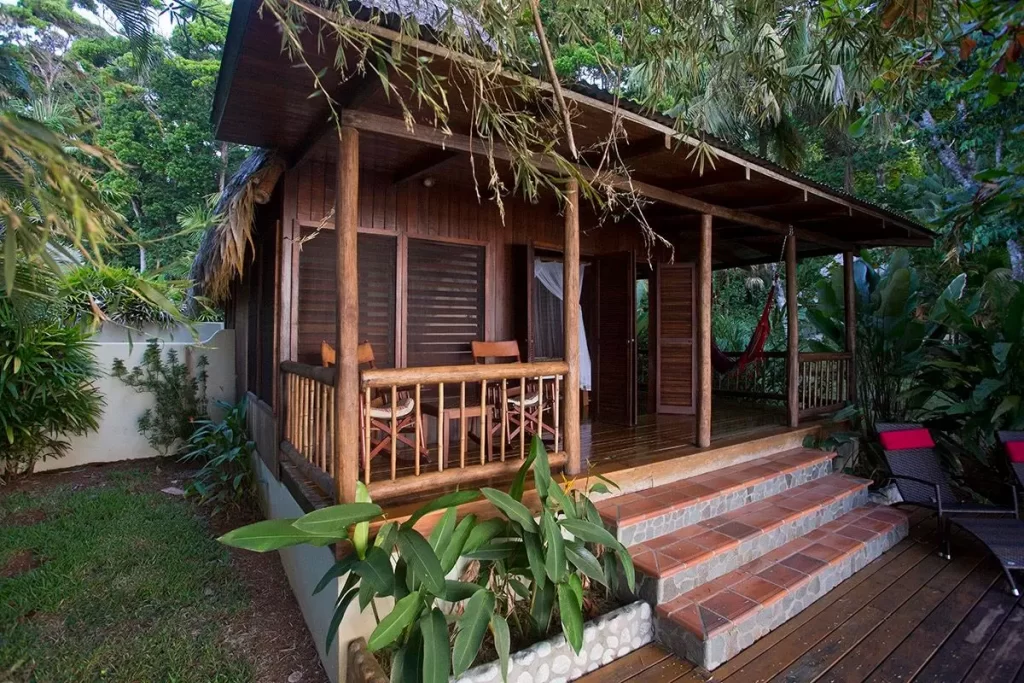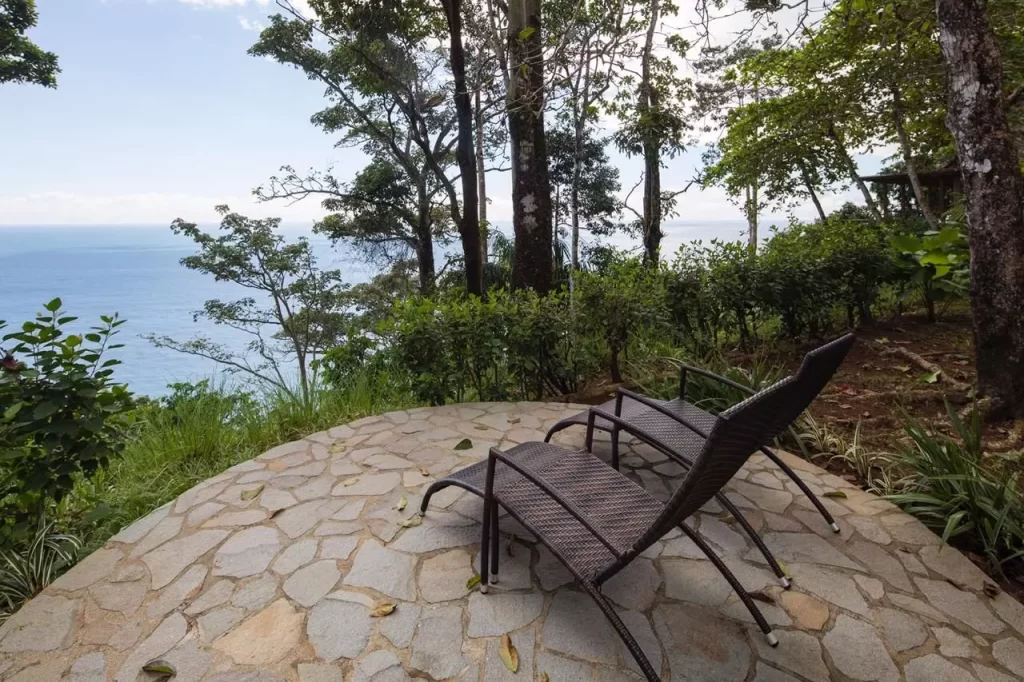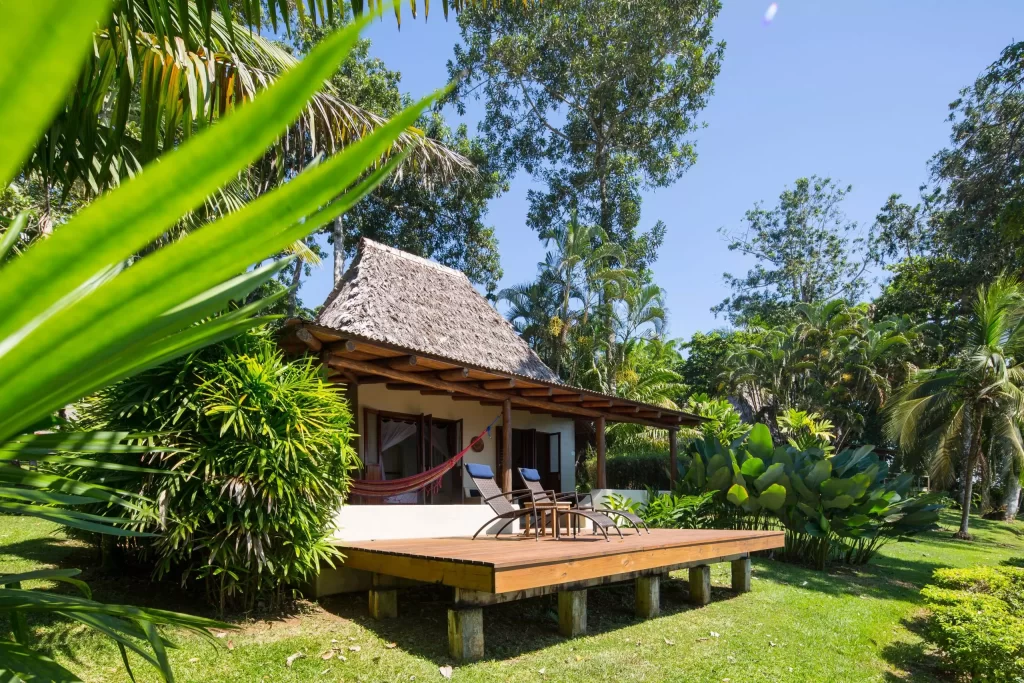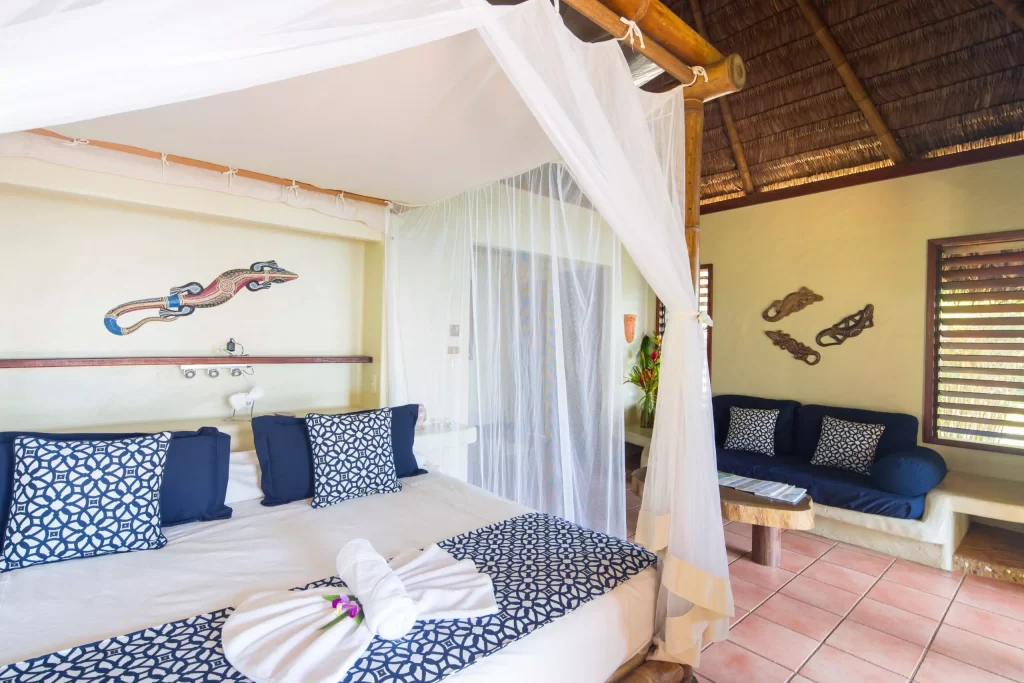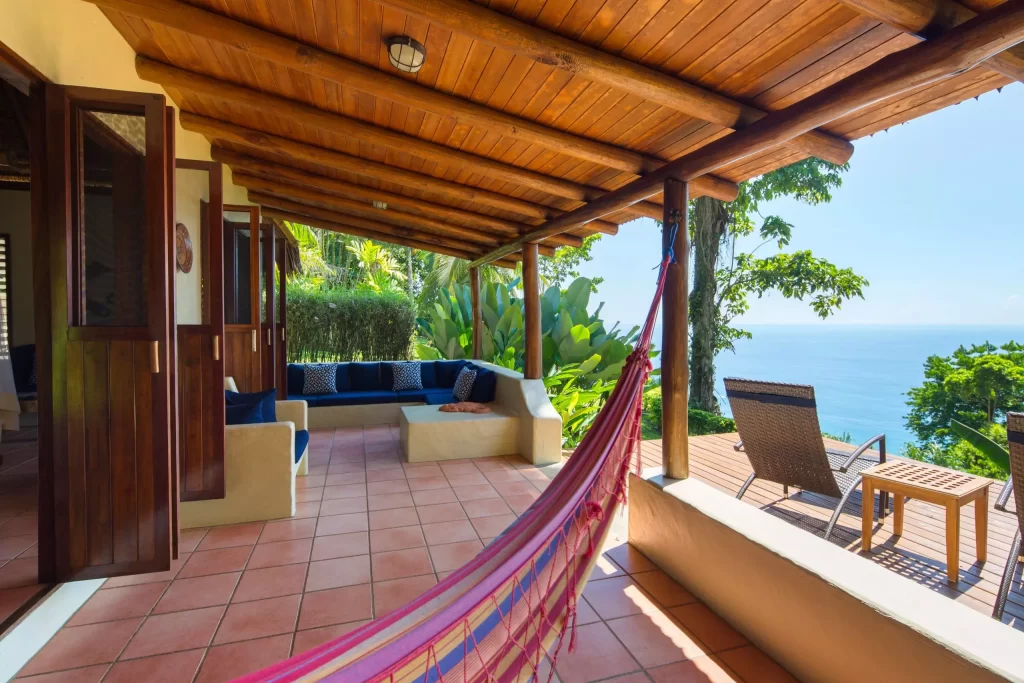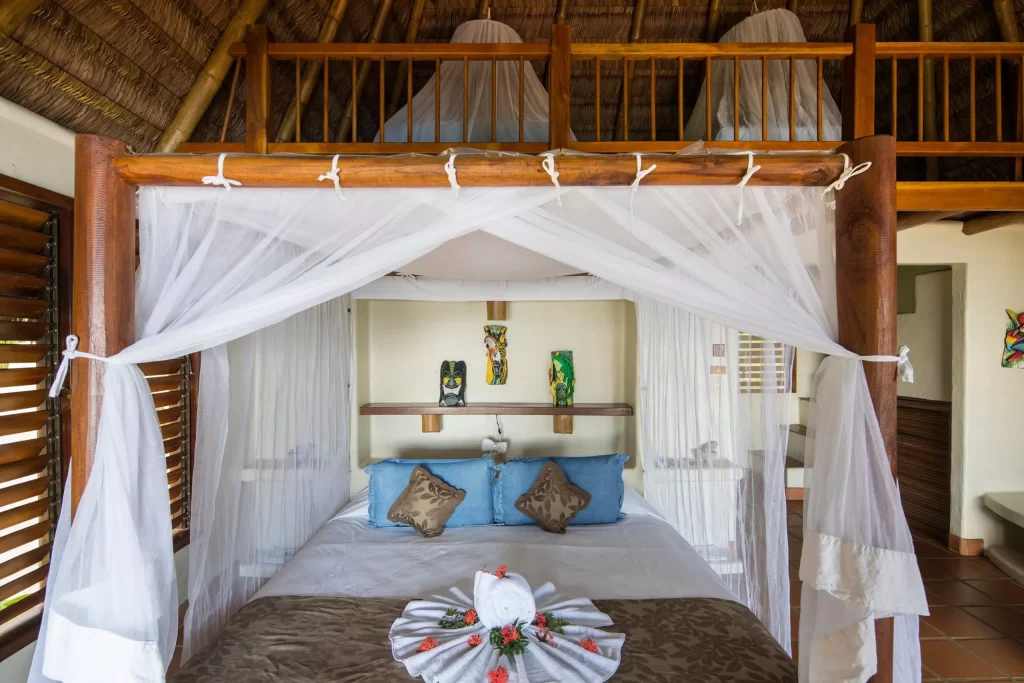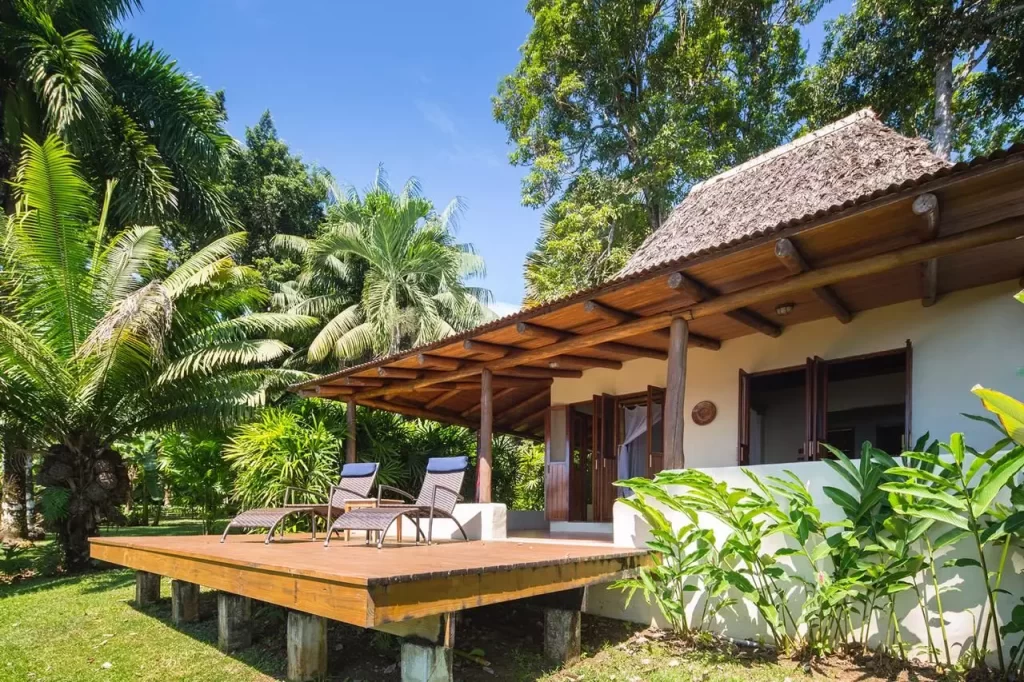 Deluxe bungalows
Sleeps 1-5 people
Bosque del Cabo offers 8 deluxe bungalows (Mariposa, Lapa, Congo, La Palma, Manglillo, Pizote, Gecko and Tucan). These bungalows are all built in the same tropical style, but each is a little different with its own unique features; all are lovely and have wonderful ocean views. The bungalows are either tropical hardwood and thatched-roof construction, or stucco and tile construction, or a combination of both styles. All of our deluxes feature king-sized beds, larger bathrooms with dressing area, expanded outdoor garden showers, hammocks and easy chairs for lounging, and wraparound porches which step down into observation decks. The views from these decks are incredible, perfect for birdwatching or stargazing. Three of the seven bungalows have lofts (Tucan, Manglillo and La Palma), which include 2 beds (1 single bed and 1 double bed). Two of the deluxe bungalows have outdoor bathtubs in addition to the outdoor garden showers (Mariposa and Tucan).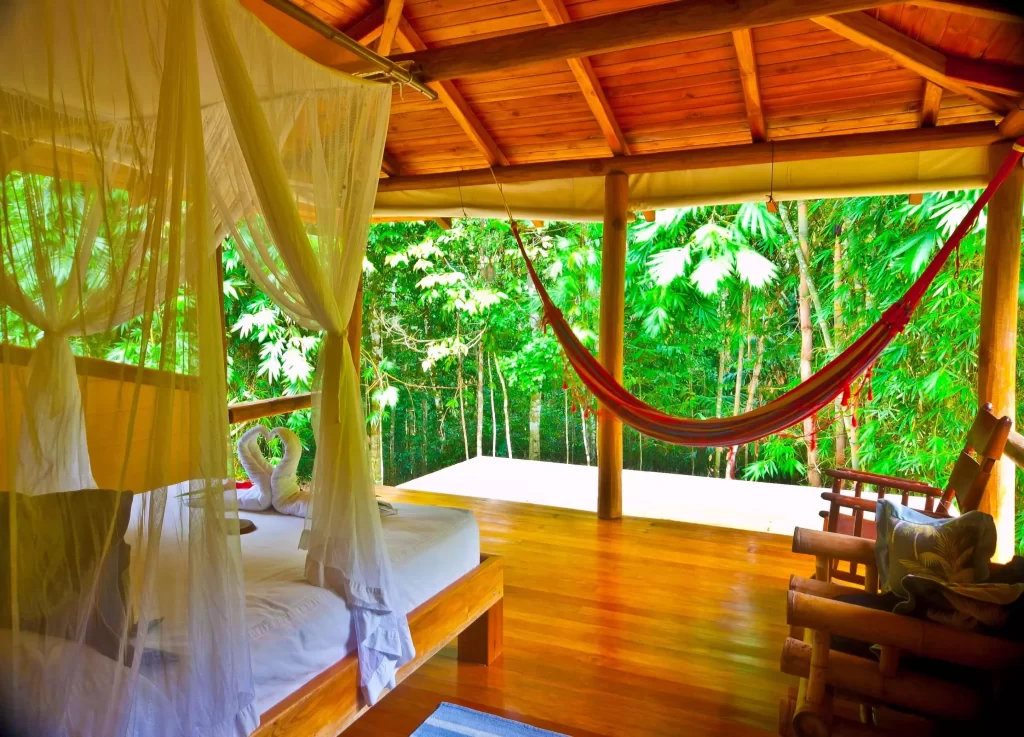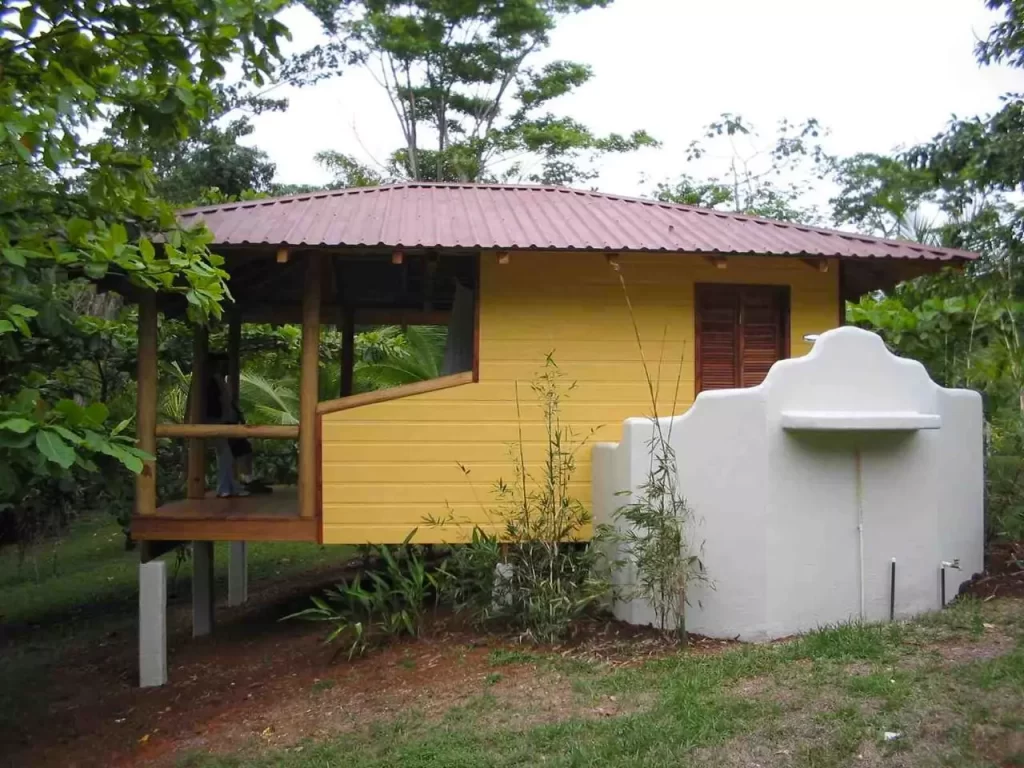 Garden cabinas
Sleeps 1-2 people
Cabina Almendra & Cabina La Paz are the names of our garden cabinas. They are the same style cabinas and they include a queen size bed, indoor bathroom, outdoor garden shower, mosquito nets, hammocks, a rocking chair and solar powered electricity. These cabinas are almost like an open sleeping platform with a bedroom that opens up on three sides to vistas of the rainforest and the sounds of the forest animals and the nearby creek (there are roll-down tarps that can be closed for more privacy or heavy rains). This is an exciting and alluring way to sleep and experience the rainforest! These accommodations are surrounded by rainforest and face the garden there is also a large pond in the garden area. Due to their location in the middle of the forest and proximity to the pond these charming and rustic accommodations offer great opportunities for wildlife sightings. They are perfect for guests that enjoy experiencing the sights and sounds of the rainforest close up, as well as walking through the forest or across a beautiful suspension bridge to access to and from the main lodge. The garden accommodations are accessed either by crossing our 300-foot long suspension bridge (hangs 75 feet above a beautiful creek) or by hiking on a part of the Golfo Dulce Trail, the accommodations are approximately 550 meters from the main lodge. This walk can be more challenging if it is raining or when it is dark. We ask that only guests that feel they will be comfortable with the walk and the increased isolation of these accommodations book into them.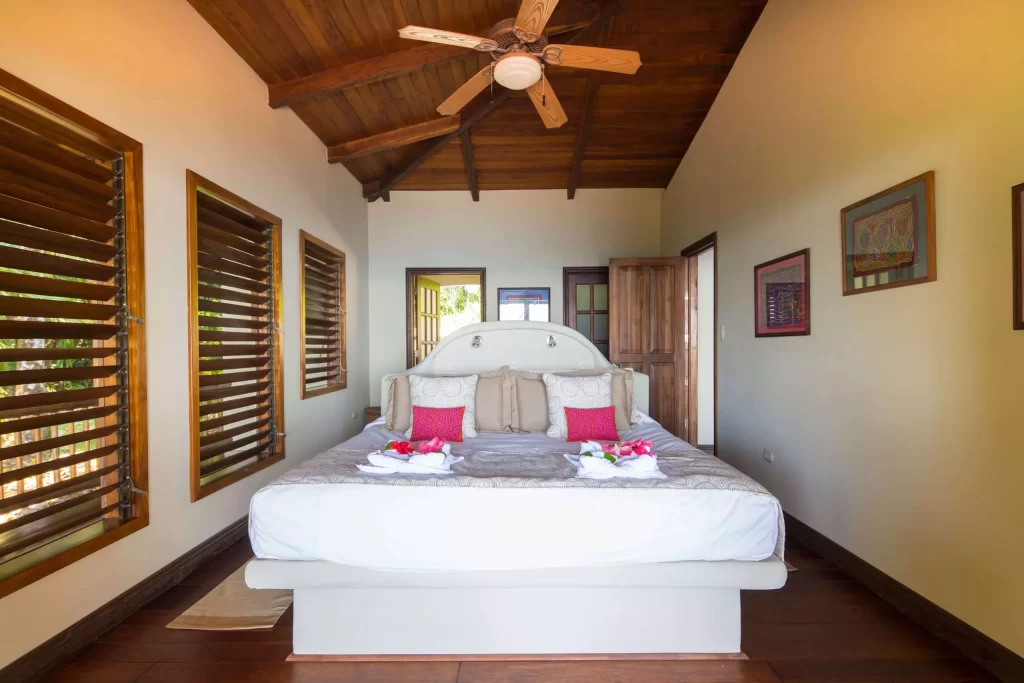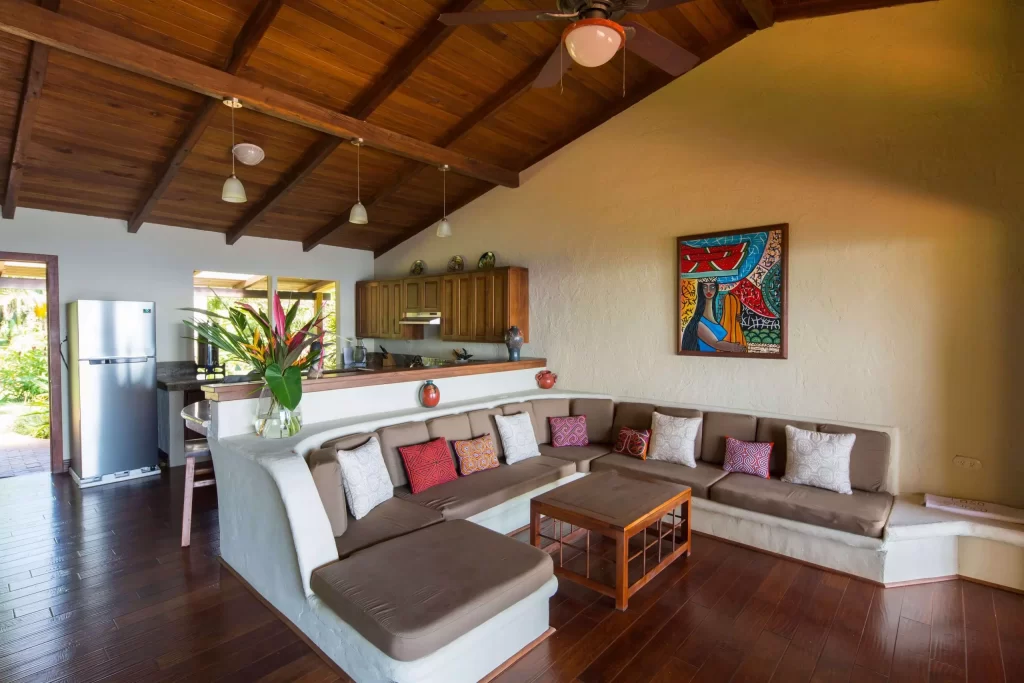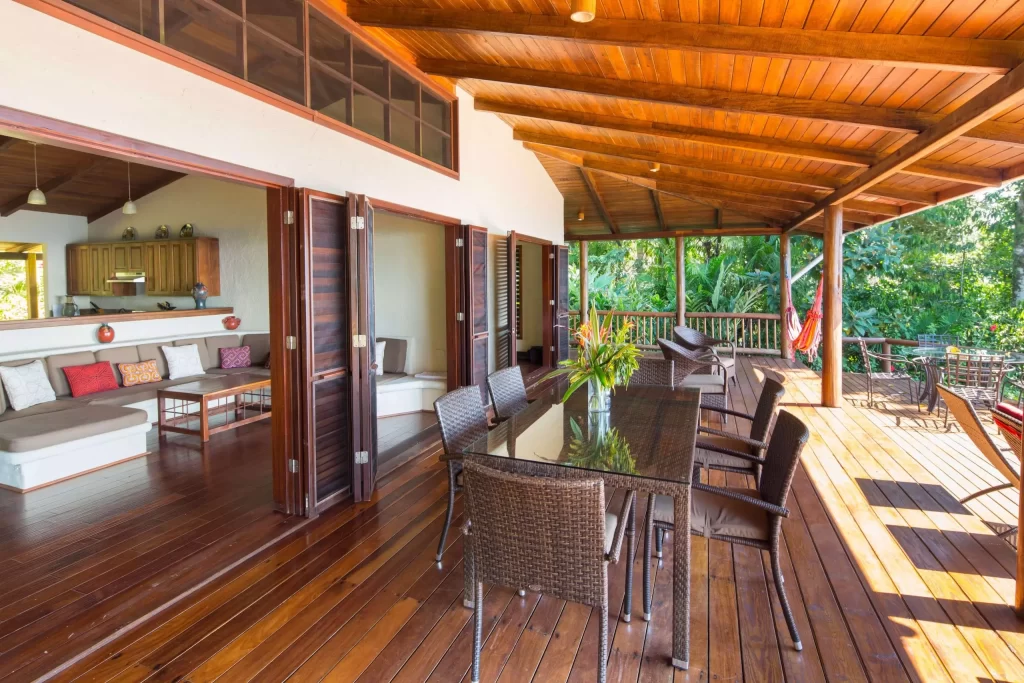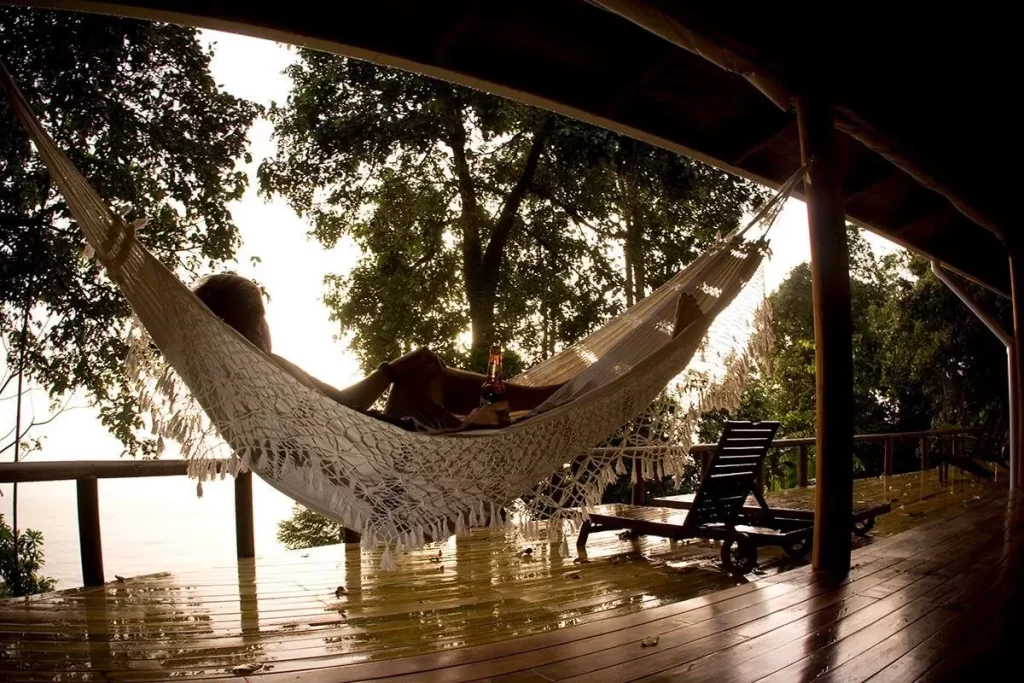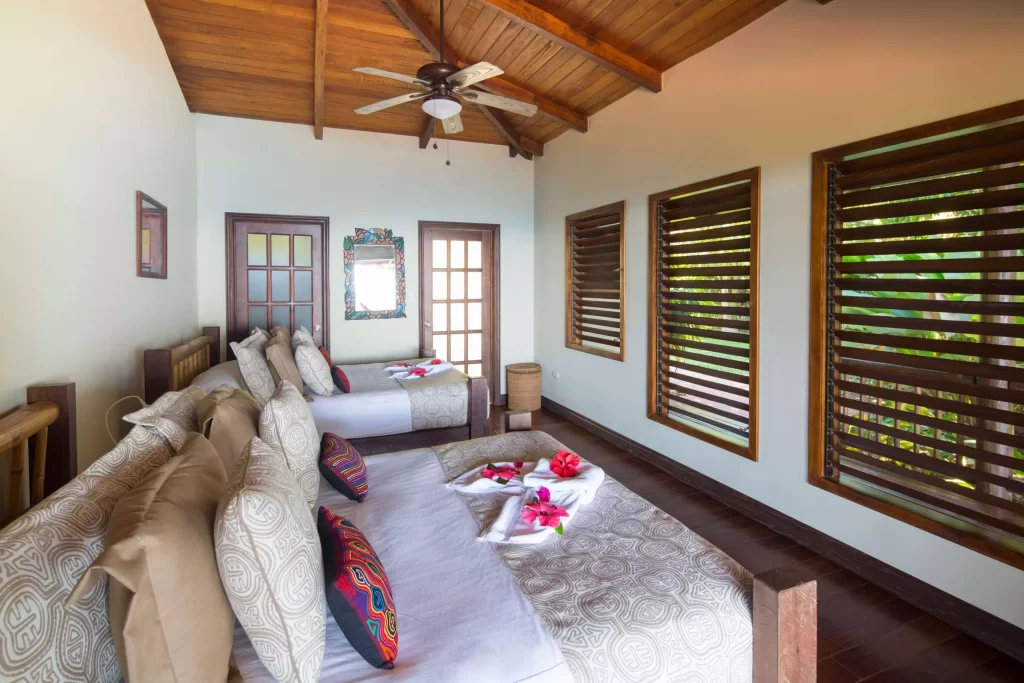 Casa Blanca
Sleeps 1-6 people
Casa Blanca is a well-appointed 2 bedroom / 2 bath home originally built for the owner's mother. Decorated in a classic tropical style, Casa Blanca has a kitchen, living room area, large wraparound porch with an amazing view of the Pacific Ocean, step-down sundeck, and 2 large bedrooms on either side of the house. The master bedroom has a king-sized bed and the other bedroom has 2 queen-sized beds. The house is located 250 meters from the restaurant and the other bungalows, affording it a greater sense of privacy. The kitchen is fully equipped with everything you need to whip up your own gourmet delights, or, if you prefer, you can dine at our restaurant (with advanced notice). Casa Blanca has served as the homebase for several groups- such as yoga groups (they did their yoga classes right on the deck with 20+ participants), wedding parties and photo workshops (the group leader and a few participants stay in the house and they have slide show presentations here as well and welcome cocktail parties). However, the most common guests to stay at Casa Blanca are families and groups of friends. The house provides just the right balance of privacy and accessibility to the main lodge/restaurant area. The most popular area of the house tends to be the large deck- guests are able to relax there in hammocks, stretch out on chaise lounge chairs, alfresco at the outdoor table or read a great book in the overstuffed chairs. The wildlife viewing is particularly great from this deck- it is surrounded by forest on the sides and that can lead to great monkey and bird sights, but the ocean view from the deck is also stunning (whales are even spotted sometimes).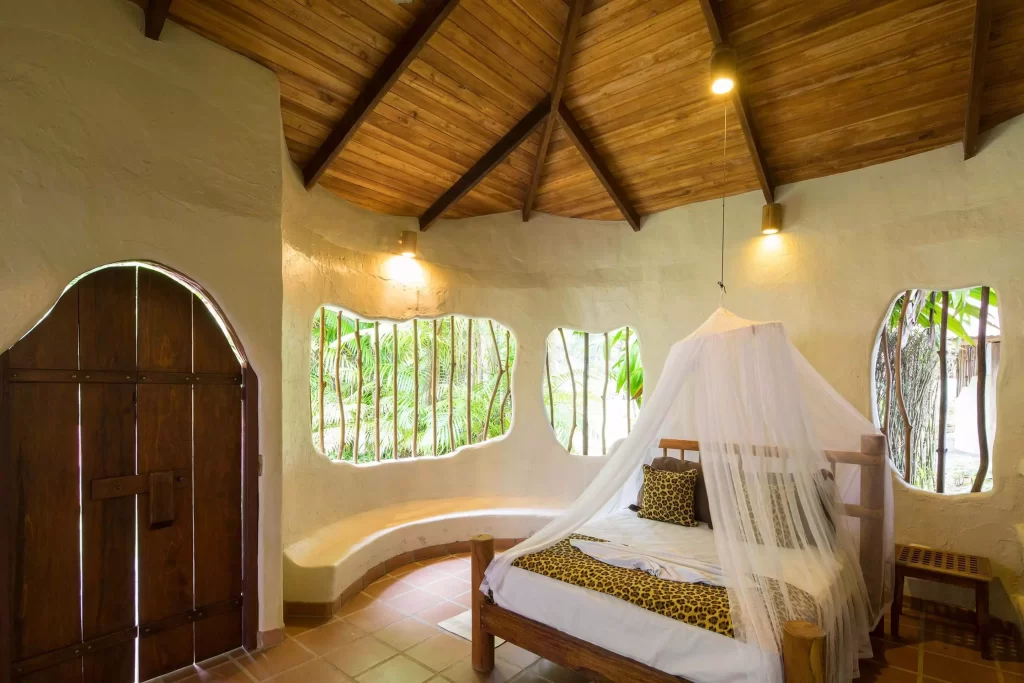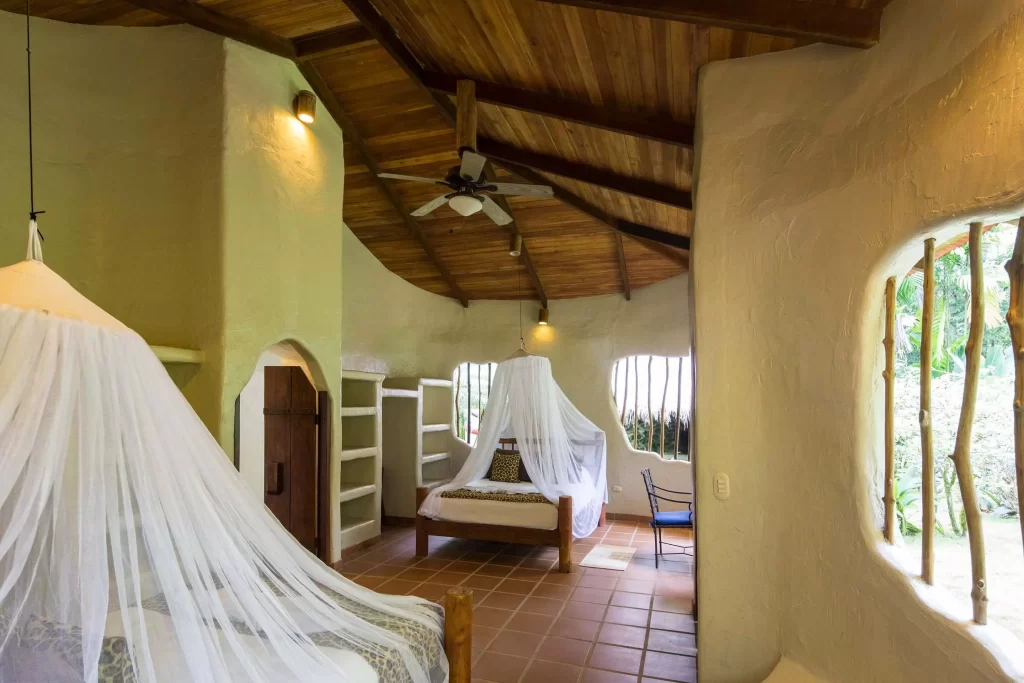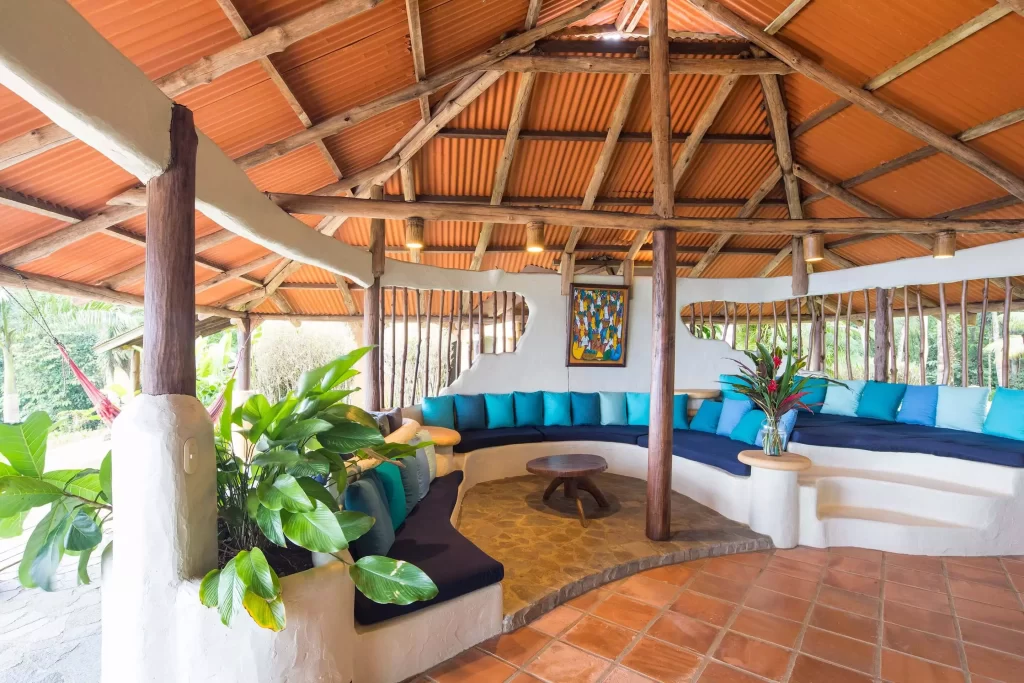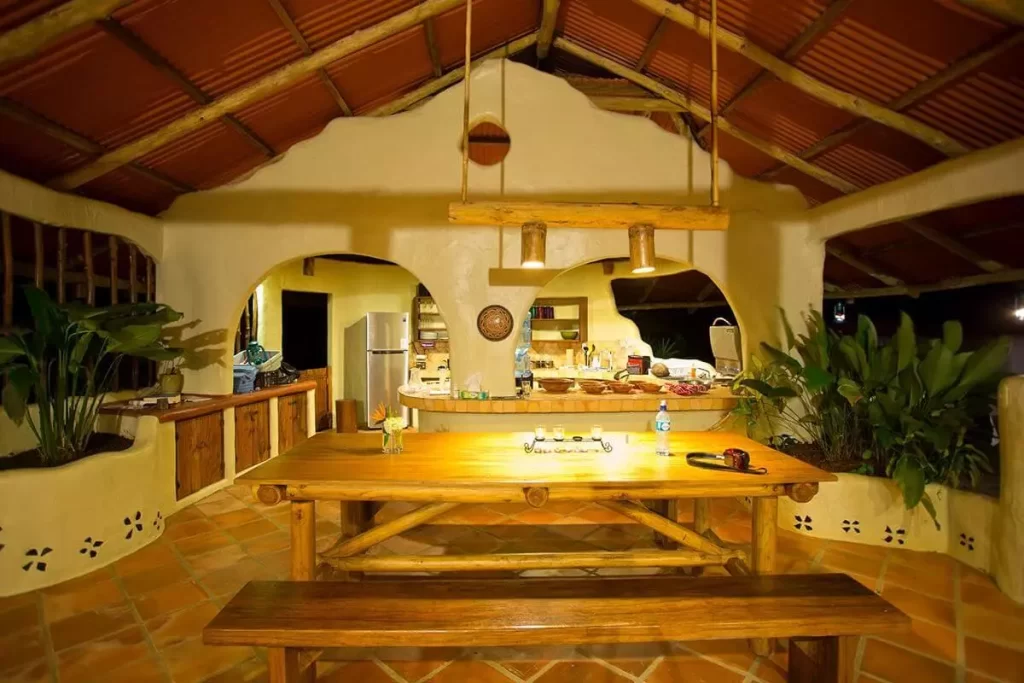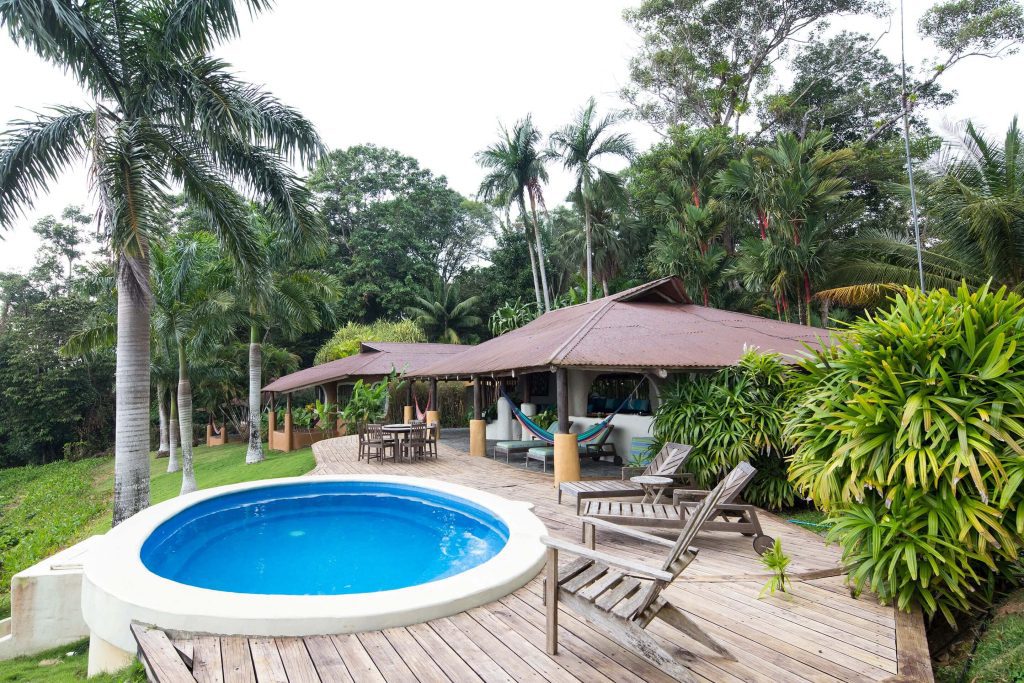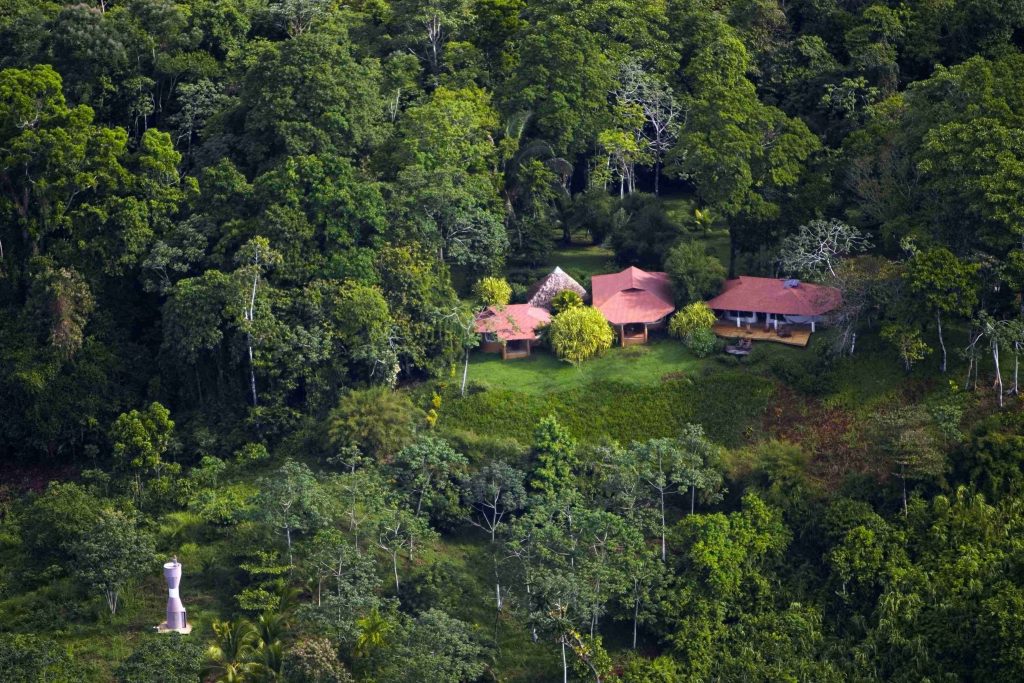 Casa Miramar
Sleeps 1-8 people
Casa Miramar is the larger rental house at Bosque del Cabo, and is distinctive for its interesting and unique artistic flare. The house actually consists of three small, round houses linked together by heliconia lined pathways and beautiful planters. Casa Miramar offers 3 bedrooms (2 bedrooms with one queen sized bed and one twin daybed, and 1 bedroom with two double beds), 2 full bathrooms, fantastic outdoor garden showers, large living room/kitchen area, fully-equipped kitchen, observation deck, many porches and a small private pool. Miramar is the only accommodation at Bosque del Cabo with its own pool, and guests love having their own pool! Guests are treated to unbelievable panoramic ocean and sunset views from the decks. Miramar is perched atop a hill, 775 meters from the restaurant area, and it provides total privacy; of course there is a greater amount of hiking required to get to the main lodge/restaurant area from Casa Miramar than from the oceanview cabinas or Casa Blanca. The house does have its own power system (created by solar power) which provides lights, power for appliances that aren't heavy power users, and small fans (provided in the bedrooms). Miramar also has hot water that is generated by a solar hot water system.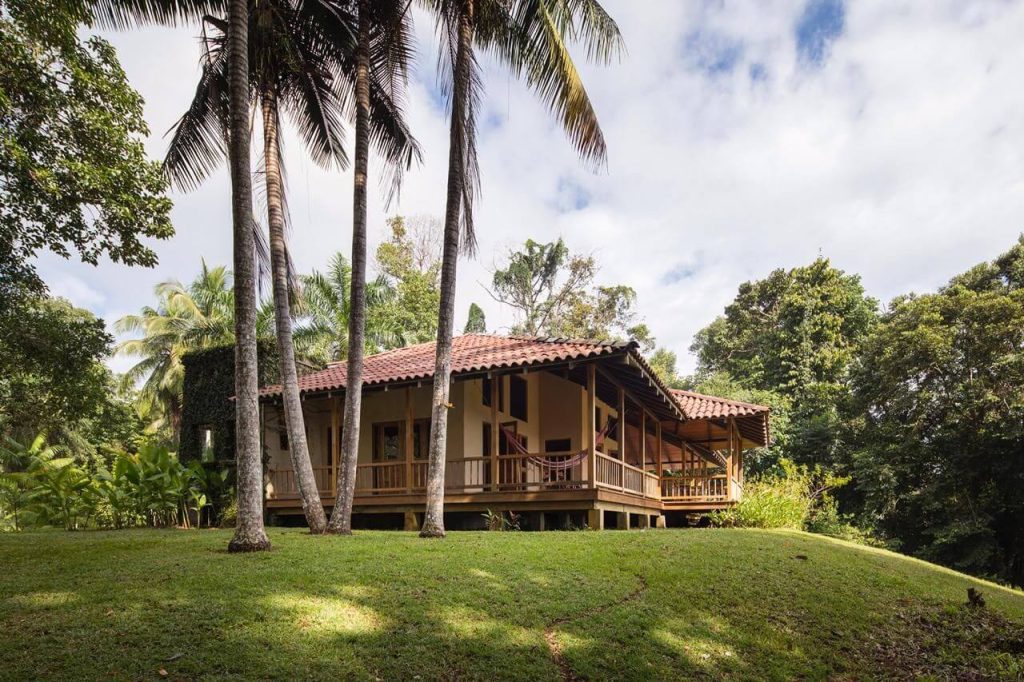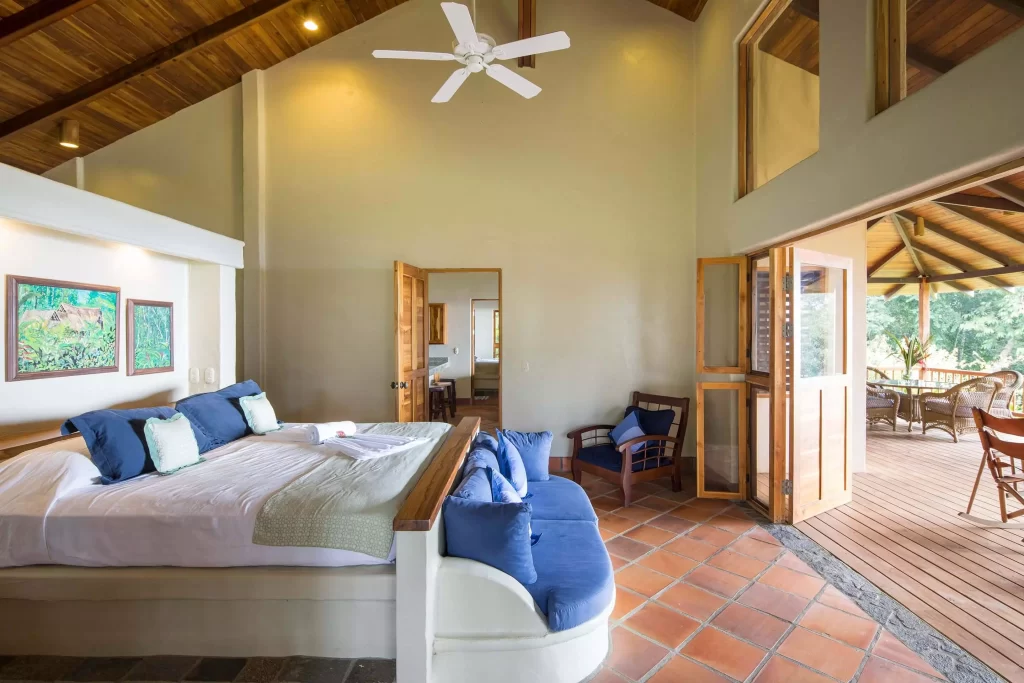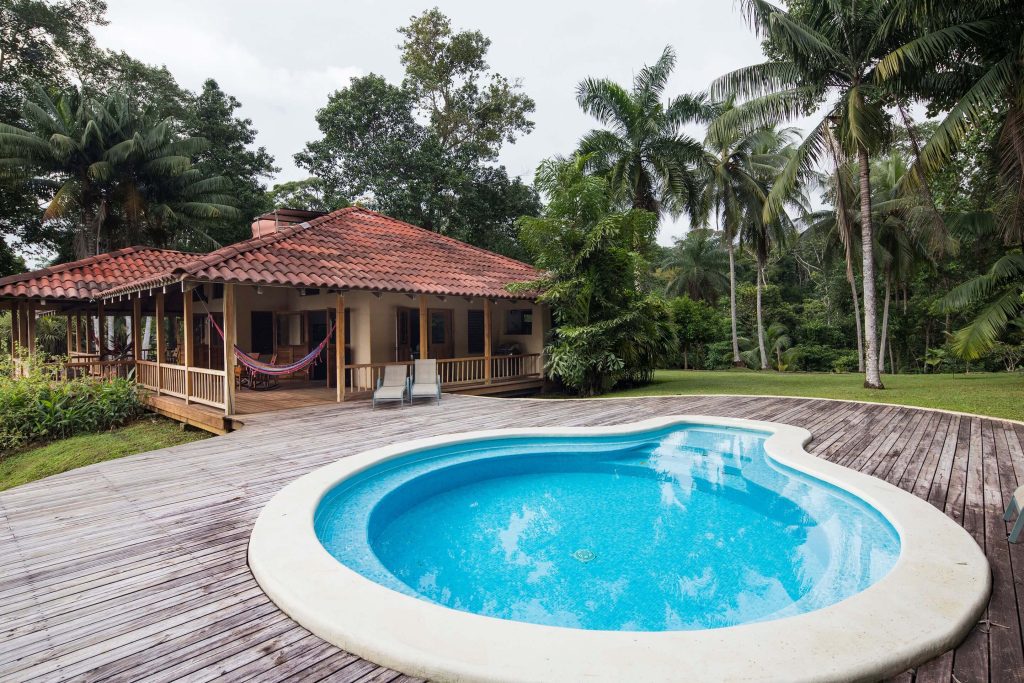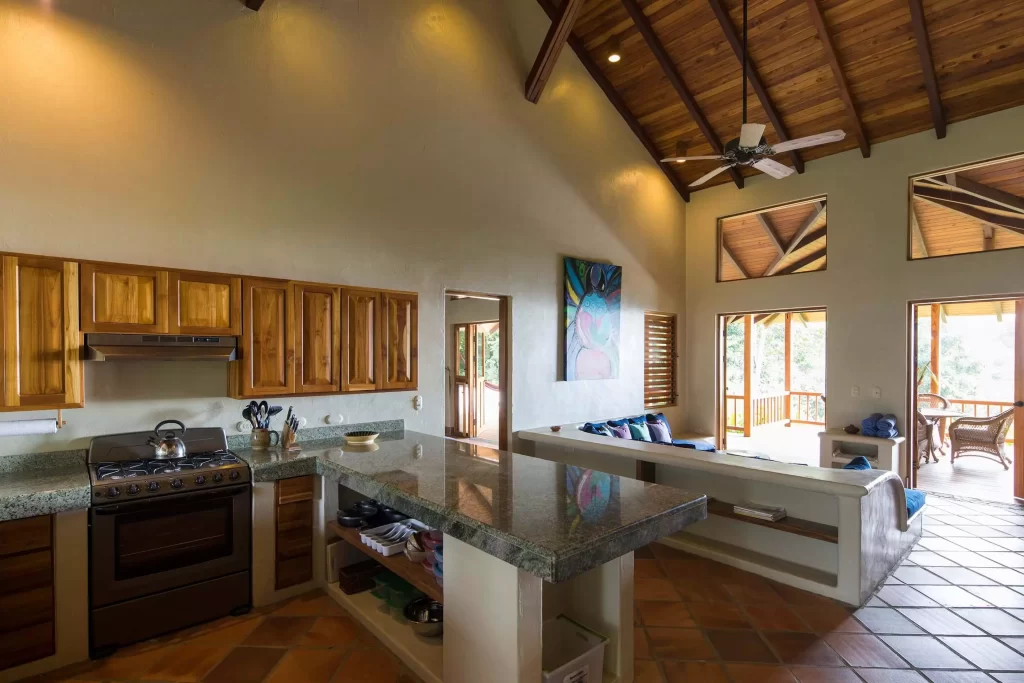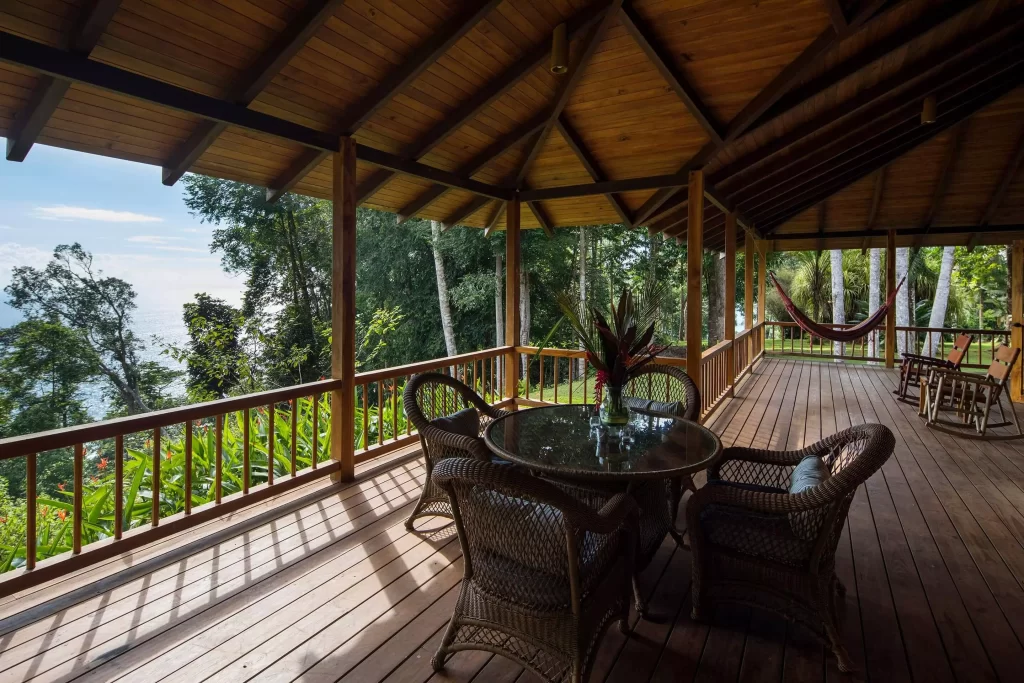 Casa Coco
Sleeps 1-4 people
Casa Coco is new rental house, and it is much nicer and more detailed house than the other rental houses at the lodge. Originally built for and by the owners of the lodge, Coco has a gorgeous layout, closes up tight if you want to feel like you are in a more traditional house, or can open up fully to take advantage of the wonderful wrap-around deck and great ocean views. The house has two bathrooms, each with showers and bathtubs (one side of the house has the bathroom with an open tower enclosing the shower and bathtub, the other side has a more traditional bathroom with the shower and bathtub under a roof. The house has a fully equipped kitchen, with granite countertops, stove and oven, refrigerator, dishes and pots and pans. There are two bedrooms in the house, each with a king sized bed. The porch has a dining table and chairs, rocking chairs and hammocks (for taking full advantage of the breezes, forest surroundings and ocean views). One important note, Casa Coco is set apart from the main lodge (it is farther from the main lodge than Casa Miramar, it is about one mile from the main lodge and restaurant). This distant siting was done on purpose to provide this house with exceptional privacy, but guests should be aware of the distance to the main lodge. The walk to the main lodge is a good hike with wonderful wildlife and birding possibilities, but we do encourage guests to have a rental car for added convenience while at this house. Casa Coco, with a large amount of property surrounding it, a private trail down to the Pacific beach, plus a large open area right next to the house with a great sunset view and fantastic chances for wildlife sightings is the premier rental house at Bosque del Cabo and a wonderful opportunity to really live in the rainforest.