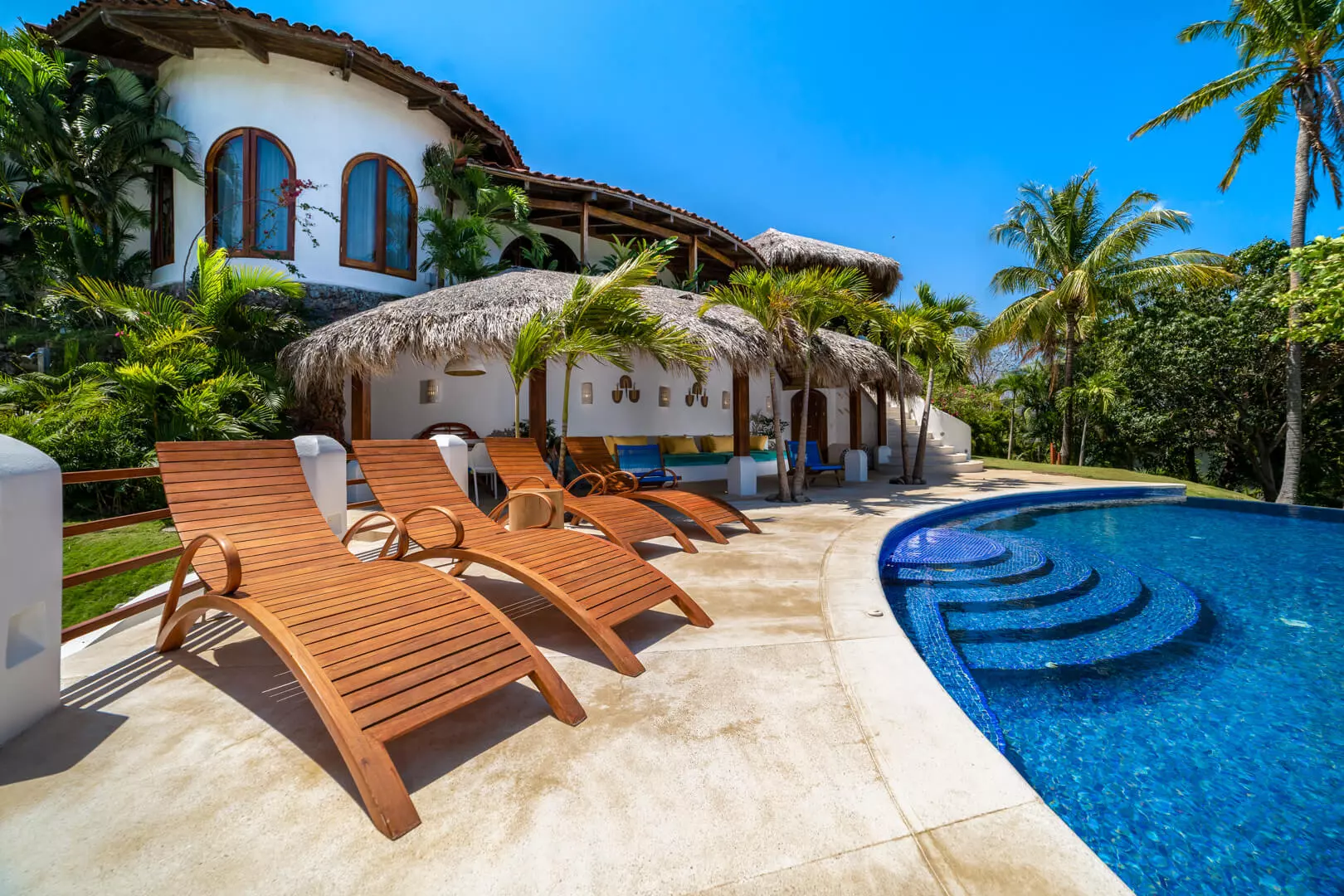 Overview
Right on the shores of Flamingo Beach, the pool view opens directly to the sea. A lovely open-air holiday villa, it's a great place for family and friends to gather and enjoy the remarkable scenery and culture. This eco-friendly property has a unique design allows the cool breeze to flow through with no need of A/Cs except in the rooms.
A beautiful beachfront property, set on a hillside that reaches down to the sandy shores of the Flamingo Beach, relax and enjoy the mesmerizing panoramic scenes of mountains, ocean, and sky. An ideal tropical setting with turquoise waters, white sand beaches and lush verdant forests, Flamingo Blu has it all.
At Flamingo Blu you can frolic in the waters, go fishing off the coast, go golfing at Hacienda Pinilla or go visit Costa Rica's first and largest national park, Santa Rosa, and Palo Verse nature reserve which boarder the property.
With a unique design of architectural circles, the calm ambiance that radiates from Flamingo Blu blends with its tropical surrounding creating a peaceful haven to relax and unwind. As the gentle pacific breeze blows through the property, lifting the spirits and cooling the air, it takes your worries away and has you melting into one of the lounging chairs.
With a fully-equipped kitchen, a poolside kitchenette, poolside dining​ and a BBQ area, you are spoilt for choice as to where to enjoy your meals. A lounge area with a terrace and pool audio zones will have you enjoying your stay to the max.
If you do want to try a spot of activity, kayaks, snorkelling gear and boogie boards are available. For the kid in you, they also have a trampoline with a safety net for the ultimate holiday experience. Flamingo Blu also has a Boules court and some swings near the court for the whole crowd to gather for a game or two.
Included
Towels, Beach Towels, Robes
DO I NEED TO GET A VACCINATION BEFORE GOING TO COSTA RICA?
No, you don't, but we always recommend you to talk to your local medical provider.
DO I NEED A PASSPORT TO TRAVEL TO COSTA RICA?
DO I NEED A VISA TO GO TO COSTA RICA AS A U.S. OR CANADIAN NATIONAL?
No Visa is required to go to Costa Rica on vacation if you are a U.S. or Canadian national and are planning to stay less than 90 days. You do need a valid passport and a valid return ticket within 90 days of your departure.
Costa Rica is one of the safest countries in Latin America. As always please be aware of your surroundings. If you for any reason feel uncomfortable let us know and we will advise. Our number-one priority is your safety!
WHAT IS THE WEATHER LIKE IN COSTA RICA?
Costa Rica has a tropical climate and two seasons, the dry season and the green season. The dry season is generally between December and April with very low to no rainfall, and the green season is between May and November when rainfall occurs. The temperatures are similar year-round. The temperatures vary between 86-95 degrees Fahrenheit (30-35 Celsius) daytime at sea level and 77-83 degrees Fahrenheit (25-28 Celisus) at night time. The mountain temperatures differ between 68-86 degrees Fahrenheit (20-30 Celsius) daytime and between 57-72 degrees Fahrenheit (14-22 Celsius) at night time depending on where you are in the country.
Get a free Quote & expert advice