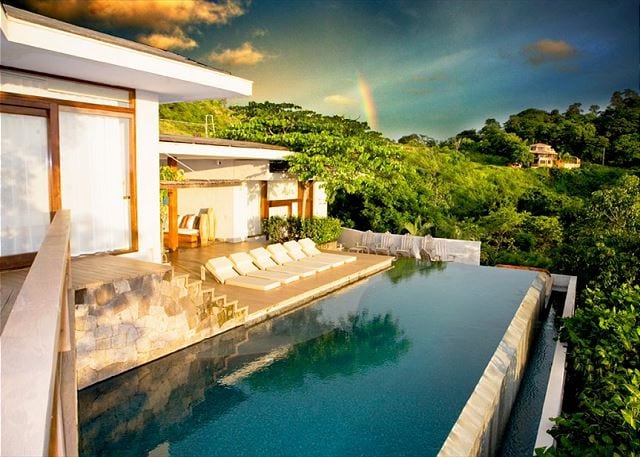 Overview
Enjoy a luxury holiday in the sun. With an infinity pool complete with a jacuzzi, comfortable accommodation and exceptional service, this would be an ideal for a romantic wedding celebration with family and friends. All with a complimentary view of the Tamarindo Bay. Enter your new holiday home and feel right at home as the ocean breeze welcomes you to a tropical paradise. Casa Puros Dieces is a beautiful open-air vacation home that is eco-friendly and allows the cool ocean breeze filter through the villa eliminating the need for air conditioning in the common areas. The bedrooms of course, are air conditioned. The kitchen is fully equipped along with the basic necessities of a dishwasher, oven, microwave, toaster and coffee machine.
The property also has a private infinity pool with stunning views of the Tamarindo Beach. This deluxe hilltop villa has an open poolside deck where you can relax with a cool drink in your hand enjoying the beautiful colours of the sunset.
The spacious interiors and outdoor areas are perfect for group gathering and the epic getaway you were always planning to take. Simplicity and luxury combine to give you a tropical holiday home where comfort and convenience stand true. Experience the excitement of outdoor living with their private open villa Rancho that can also be used for those essential afternoon naps.
If you want to explore the local cuisines head over to Tamarindo and try out some of the classic local favourites and a well-earned spot of shopping at the souvenir and grocery shops.
While you are at Casa Puros Dieces enjoy a cocktail at Pangas Restaurant, take a surfing lesson with the local instructors, take a fishing trip off the Pacific coast, a private sunset cruise and enjoy a relaxing spa experience in the middle of the forest.
Included
Towels, Beach Towels, Robes
DO I NEED TO GET A VACCINATION BEFORE GOING TO COSTA RICA?
No, you don't, but we always recommend you to talk to your local medical provider.
DO I NEED A PASSPORT TO TRAVEL TO COSTA RICA?
DO I NEED A VISA TO GO TO COSTA RICA AS A U.S. OR CANADIAN NATIONAL?
No Visa is required to go to Costa Rica on vacation if you are a U.S. or Canadian national and are planning to stay less than 90 days. You do need a valid passport and a valid return ticket within 90 days of your departure.
Costa Rica is one of the safest countries in Latin America. As always please be aware of your surroundings. If you for any reason feel uncomfortable let us know and we will advise. Our number-one priority is your safety!
WHAT IS THE WEATHER LIKE IN COSTA RICA?
Costa Rica has a tropical climate and two seasons, the dry season and the green season. The dry season is generally between December and April with very low to no rainfall, and the green season is between May and November when rainfall occurs. The temperatures are similar year-round. The temperatures vary between 86-95 degrees Fahrenheit (30-35 Celsius) daytime at sea level and 77-83 degrees Fahrenheit (25-28 Celisus) at night time. The mountain temperatures differ between 68-86 degrees Fahrenheit (20-30 Celsius) daytime and between 57-72 degrees Fahrenheit (14-22 Celsius) at night time depending on where you are in the country.
Get a free Quote & expert advice